Jake Browning is wowing them at Washington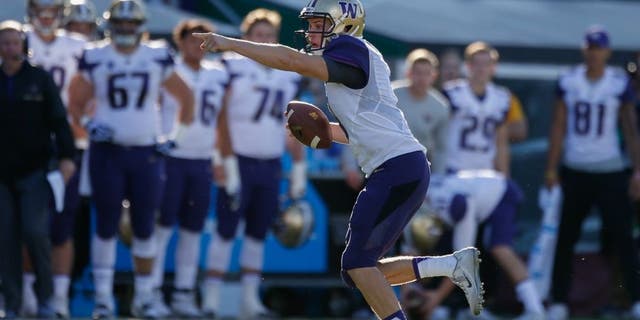 We're midway through the 2016 college football season, and Washington quarterback Jake Browning has emerged as the Heisman Trophy candidate nobody saw coming.
Through six games, Browning, a sophomore, has completed 72.2 percent of his passes for 1,418 yards and 23 touchdowns. In his latest outing, a 70-21 demolition of Oregon in Eugene on Oct. 8, Browning accounted for eight touchdowns -- six through the air, two on the ground -- and has thrown just two interceptions in 144 attempts.
Browning's rapid rise to prominence since taking over the starting job as a true freshman has also been quite the boon for the Huskies, who are 6-0 and ranked No. 5 in the country -- the program's highest ranking since the end of the 2000 season -- heading into Saturday's game against Oregon State.
While few outside the Pacific Northwest expected the highly touted recruit to be so good so soon, those who knew Browning way back when say the 20-year-old's breakout campaign was only a matter of time.
"It was the same in high school," said Troy Taylor, who coached Browning at Folsom High School outside Sacramento. "There would be quarterbacks that maybe people mentioned more from Southern California, guys who were more flashy or got more notoriety. But when it comes down to it, there's nobody that's going to be more efficient, that's going to put his team in a better situation.
"There's also not going to be a better teammate," continued Taylor, now the quarterbacks coach at Eastern Washington. "And when you put all those things together, there's not a more valuable player and there's not a better player in the country."
"He was very deliberate in his approach to the game," Taylor said. "You're always a little concerned starting that early because it's very redundant, what it takes to be good at quarterback. So you worry about squeezing the fun out of it when they're that young. But Jake was a guy that was perfect for it. He was very serious, so I knew he had the focus, and then as he developed you continued to see him progress."
By the time he'd reached high school, the 6-foot-2, 206-pound Browning was already thought to be a star in the making, and he confirmed as much in his first start, when he threw for 689 yards and 10 touchdowns in a 68-28 win over Woodcreek. For his sophomore season, Browning finished with 5,248 passing yards and 63 touchdowns in 15 games.
That debut effort caught the eye of current Washington head coach Chris Petersen, who wasted no time inviting Browning to a camp at Boise State, where Petersen was coaching at the time.
"We thought he was really accurate throwing the ball," said Washington offensive coordinator Jonathan Smith, who served as Petersen's quarterbacks coach in Boise. "He could make a bunch of different throws and be accurate with them. And being around him you could tell that football meant a lot to him. He liked to work at it, study it, learn it -- and that's what we definitely want from a quarterback, those are non-negotiable. So with those two pieces we knew this guy was exactly what we were looking for."
"Jake was unique in that when we recruited him he just flew -- I don't know if you want to say above or below the recruiting radar," Petersen added. "All the teams knew about him but I think a lot of people tried to do something with him probably later than sooner."
After forging a bond with Petersen and Smith, Browning continued to improve back home and threw for 5,737 yards as a junior. He also set a California state record with 75 more passing touchdowns as Folsom went 14-1, the Bulldogs' only loss of the season coming against perennial national power De La Salle, which eliminated Folsom from the state playoffs for the second straight year.
Meanwhile, Petersen left Boise State for Washington eight days before Folsom's season-ending defeat in 2013, and later that month, the school announced that Smith would be joining his old boss in Seattle. Three months after that, Browning committed to play for the Huskies, turning down offers from Alabama, Colorado, Oklahoma State and Washington State, among others.
"He narrowed it down really quickly," Taylor recalled of Browning's recruitment. "He could have gone just about anywhere but I think once he had an opportunity to spend time with (Petersen) and his staff and see what Coach Pete was all about in terms of the humility that he has and the type of staff that he hired -- how they treat kids, how they go about their business -- I think it became pretty clear that was the right spot for Jake.
"And then once he decided, there was no second guessing," Taylor added, underlining Browning's commitment to Washington's vision. "He knew that was the place for him and he was never going to change his decision."
The following September, after racking up 1,707 yards and 27 touchdowns in his first four starts as a senior, Browning announced he'd be enrolling early at Washington. And a few days later, after throwing for 314 yards and five more touchdowns in a 63-0 win over Granite Bay, Browning took an official visit to the campus, where he once again impressed the Huskies staff with his maturity.
"His dad has been a guy who has let Jake stand on his own two feet, the opposite of a helicopter parent," Taylor said of Browning's father Ed, a former Oregon State quarterback. "He's very supportive, but the Washington coaches always talk about when Jake came on his visit -- a lot of times the parents are hanging out, but they had a hard time getting Ed even in the office because he didn't want to take away from Jake's experience, and he wanted Jake to do it on his own.
"Ed has kind of let him make his own way," Taylor added. "Jake's had a lot of support, but he's been very grounded his whole life. He understands how to treat people and how to interact with people, because he's done it through experience."
After returning to school with his future settled, Browning led Folsom to an elusive state championship, his undefeated final season ending with a 68-7 rout of Oceanside in the Division I title game. In total, Folsom outscored opponents 915-166, setting a state record for points in a season while forcing a running clock -- which starts when a team takes a 35-point lead -- in every game.
As for Browning, he shattered his own state mark for TD passes with 91 -- tying the national single-season record in the process -- and finished with 229 for his career, surpassing former Mizzou quarterback Maty Mauk's national high school record of 219.
Still, that wasn't enough to guarantee Browning the starting job at Washington. Soon after Browning's arrival in the spring of 2015, incumbent quarterback Cyler Miles abruptly retired from football due to a chronic hip injury.
"We were going to give him an opportunity to do that and we felt that he was further along than a lot of freshman quarterbacks who you recruit," said Smith, who, like Ed Browning, played quarterback at Oregon State. "It wasn't a no brainer, and going through spring ball and camp, we weren't certain he was ready or he was the best option. But at the end of the day he continued to improve constantly and we felt like he gave us the best chance to win."
Last fall, Browning became the first true freshman in Washington history to start a season-opener. And after struggling somewhat to find his footing early, throwing for 996 yards, five touchdowns and four interceptions in his first four games, Browning guided the Huskies to an upset win at No. 17 USC in Week 5.
All told, Browning led Washington to a 7-6 record and a bowl win and finished his freshman season with 2,955 yards, 16 touchdowns and 10 interceptions.
"I saw that guy, as a freshman, kind of get thrown in the fire and handle himself well," said Washington receivers coach Bush Hamdan. "There was not a time last year when I ever felt the moment was too big. I think there were times where he felt, 'In this game, I wish I could have made those plays,' and so on, but I just always found him to be a guy who does a great job preparing. And when you're in the gameday environment, he focuses on what's going on in the game and doesn't let his emotions take over."
According to his high school coach Taylor, Browning's even keel demeanor has been a huge asset when it comes to the quarterback's development.
"A lot of times when you find guys that are that driven, you find they don't know how to relax," Taylor said. "He doesn't have that issue at all. He's a hard worker, he's very detail-oriented, but he's also very easy going in his temperament while being a fierce competitor who will try to rip your heart out. It's kind of an unusual combination."
It also makes Browning extremely coachable, making him a dream for coordinators like Smith.
"He points out his own errors or flaws before I even have to bring them up," Smith said. "He's not an ego guy, he's got a ton of respect for his teammates, and he works so hard that his opinions count on plays he likes and making suggestions. All of that goes a long way when I know he's putting in the type of work that he is."
Additionally, Browning has impressed coaches by quickly building a strong rapport with his receivers, most of whom had limited game-day experience with Browning prior to this season.
Washington's top two pass-catchers from last year, Jaydon Mickens and tight end Joshua Perkins, both graduated. Dante Pettis is Browning's only returning receiver to catch at least 20 balls in 2015. (Brayden Lenius had 26 receptions last year but has yet to play in 2016 after being suspended for the first three games of the season.)
In Mickens' and Perkins' absence, Browning has relied heavily on junior wideout John Ross, who missed all of 2015 after tearing his ACL last spring. Through six games, Ross has 30 catches for 371 yards and nine touchdowns.
"Football is really important to both those guys," Hamdan, the receivers coach, said of the connection between Ross and Browning. "And I think you've got two guys who are extremely focused and hard-working who want to be great. I think any time you get that kind of combination, you obviously start to see success."
Pettis, a junior, has added 345 yards and six scores after hauling in 30 passes for 414 yards and one touchdown during his sophomore year. And Browning has also benefited from the emergence of Chico McClatcher, who is averaging 19.6 yards per catch and already has four touchdowns after snagging just eight total passes last year as a freshman.
"It's a testament to who Jake Browning is," said Hamdan, a former Boise State quarterback under Petersen. "I think everybody sees these games and how he's playing right now, but a lot of the work was put in during the summer, getting the timing down, getting receivers, tight ends, everybody in the film room and really putting in the preparation to get the results they're getting now."
"I don't think there's any promoting that needs to even kind of go on anywhere," Petersen said last week when asked about Browning's Heisman candidacy during his weekly session with local media. "If you're doing that, we're living 20 years ago.
"You guys come to us with stats and go, 'Did you know that on third down and between 12 and 13 that he's completing 68 percent of his passes against blitz?'" Petersen continued of the media attention. "That's really how it is. In the old days, it was like you had to send stuff out -- 'Did you know his stats are this good?' -- but that's so long and over."
That attitude falls in line with that of Browning, who coaches say would just as soon not have to bother with the fanfare that comes with being one of the nation's best players at the game's most high-profile position.
"He just doesn't want to spend a lot of time dealing with it," Smith said. "I don't know if he's uncomfortable (with it) though. He's just got a great approach, passing on credit to his teammates.
"We've been in games when we're running the ball pretty good and he tells us to keep on running it," Smith continued, illustrating Browning's team-first attitude. "He's not asking for more attempts. Look at his numbers -- he's not getting 45 (passes) a game. He might have even better numbers if we gave him the ball more. But he's all about winning football games."
And ultimately, if Washington keeps doing that under the intense pressure it's facing as a top-five team with national title ambitions, Browning will continue to get more than his share of credit for the Huskies' success.
"I'm not going to say that I totally knew that we'd be where we're at right now," Smith said. "We're pleasantly surprised. But I also thought we had the opportunity given the way these kids work.
"What's important to me is that the guy plays well and gives us a great chance to win each game, and he's done that," Smith added of Browning. "And that will be our focus moving forward. There won't be times when we go into a game thinking we want to have him throw another five touchdowns just because he's on the Heisman list or anything like that. Our approach is that if we win games and he gives us a great chance to win those games, then the accolades will follow."
You can follow Sam Gardner on Twitter or email him at samgardnerfox@gmail.com.