Jaguars' Yeldon returns from injury, eager for NFL debut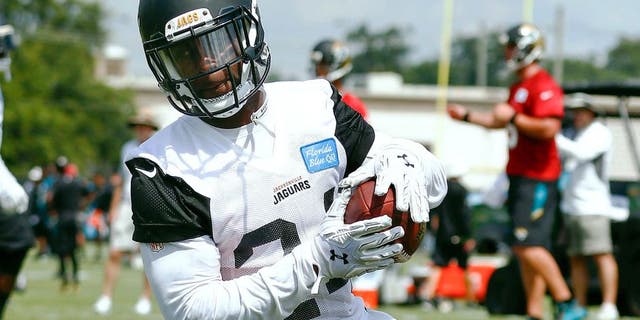 JACKSONVILLE, Fla. (AP) -- Jacksonville Jaguars running back T.J. Yeldon hasn't been hit in more than two weeks.
Now that the rookie is no longer wearing a non-contact jersey, it's only a matter of time.
A few days really.
Yeldon will make his NFL debut Friday night in a preseason game against the Detroit Lions. The second-round draft pick from Alabama missed the first two exhibitions because of a sprained finger on his left hand.
"I've been waiting for this since I was little, so I'm excited to get out there and play with the team," Yeldon said Monday.
The Jaguars have no plans to protect Yeldon or bring him along slowly.
Coach Gus Bradley said Yeldon will get snaps with the first-team offense against the Lions, a clear indication the team regards him as the likely starter ahead of third-year pro Denard Robinson and veteran Toby Gerhart.
Robinson started nine games last season, finishing with a team-high 582 yards rushing and four touchdowns in his second season since making the switch from college quarterback to running back.
Gerhart, signed to be the starter in March 2014, injured his ankle in the season opener and spent the rest of the season trying to recover. He finished with 326 yards on the ground and two scores.
It didn't help that Gerhart was stuck in an outside-zone rushing scheme that exposed his lack of speed and quickness. The Jaguars have since switched to an inside attack.
They also feel as if they've significantly upgraded the running back group by adding Yeldon, a 6-foot-1, 226-pound Alabama native who rushed for 979 yards and 11 touchdowns as a junior and 3,322 yards and 68 scores in his three seasons with the Tide.
Although Robinson and Gerhart will be in the mix this fall, Yeldon is expected to be the workhorse.
"It doesn't really matter what team I'm going with," Yeldon said. "I'm still going to go out there and give it my all and play my best like I've always been doing since I was a little kid."
Yeldon said he has no expectations for his first game.
"Just go out there and show my teammates what I can do," he said. "They've been waiting to see me, so I'm excited to get out there and play."
The 36th overall selection in the draft, Yeldon showed big-play ability during organized team activities and training camp. His size and speed stood out, and his pass-catching ability was somewhat surprising since he caught just 46 passes in 39 games in Tuscaloosa.
"I'm excited to see what he can do in a game-like situation running the ball, catching it out of the backfield, picking it up in protections," quarterback Blake Bortles said.
"The only way to get used to it is live reps. ... He was fortunate to play in a good conference at a really good school in Alabama, so he got to see the best of the best in college, and that's kind of everybody on Sundays; it's the best of the best. I'm sure he's excited for it and I'm excited to see him play."
The hand injury has delayed his debut.
Yeldon sprained a finger during a scrimmage Aug. 8, when his hand slammed against linebacker Jeremiah George's helmet on a short touchdown run.
Tests revealed no broken bones, but the Jaguars have been cautious with Yeldon since -- realizing they don't want to go into the season without another top draft pick. Defensive end Dante Fowler Jr., the third overall pick in the draft, is out for the season following reconstructive knee surgery.
Yeldon will wear a small pad for protection and is more concerned with blocking than catching passes or being able to keep a tight grip on the football.
"It's a lot better," he said. "It was a little sore and stuff last week, but now it's a lot better."
And he's bracing for that first hit in weeks.
"I've got to get hit on it one day, so hopefully it won't hurt too bad when it does happen," he said.