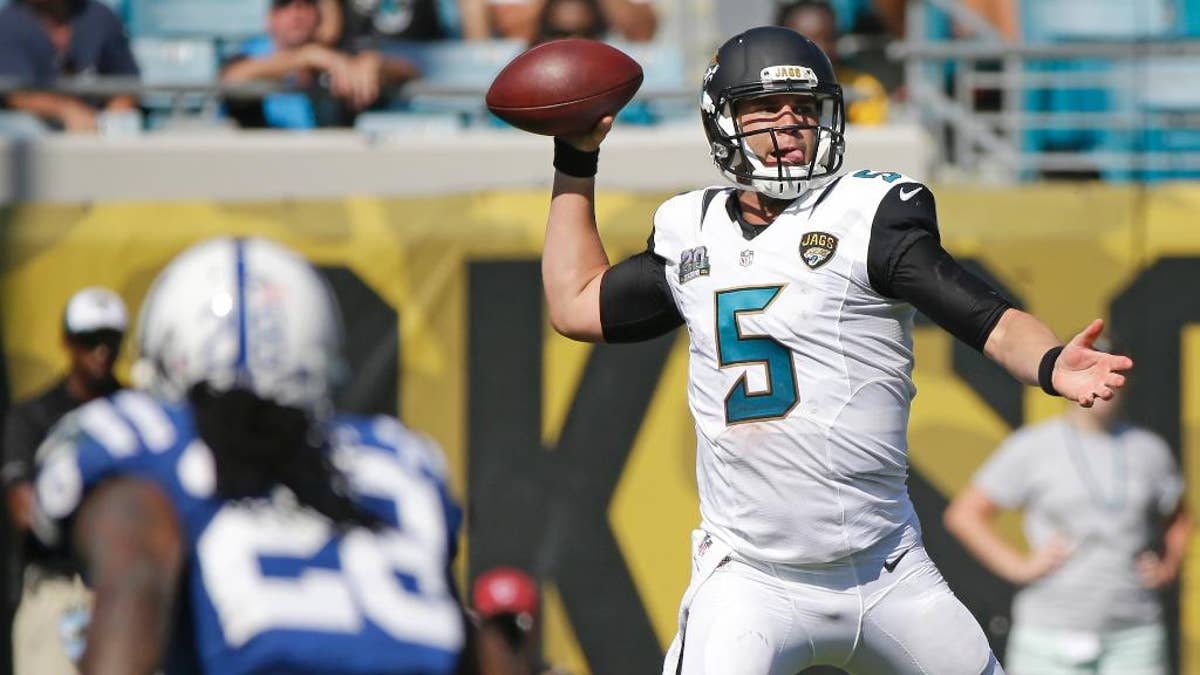 JACKSONVILLE, Fla. – The Blake Bortles era has officially begun in Jacksonville.
The Jaguars are counting on it resulting in more wins than the Byron Leftwich era, the David Garrard era, the Blaine Gabbert era and the Chad Henne era.
Jacksonville turned things over to Bortles on Sunday, making the switch at halftime of what ended up being the team's third lopsided loss in as many games this season.
Bortles threw two touchdown passes and two interceptions in his NFL debut, a 44-17 loss to the Indianapolis Colts on Sunday.
"He's going to learn, but he made some plays," coach Gus Bradley said. "He kept plays alive and he's got really good instincts and made some really good decisions and some good throws. Some of the throws that you saw I'm sure he wishes he had back, but we will learn through those."
Bortles completed 14 of 24 passes for 223 yards. He also ran for 30 yards and was sacked once.
"It was average," Bortles said. "I mean, I thought there was some good stuff and there was some bad stuff we need to correct. You can't throw two picks. ... The last one was definitely a stupid throw."
Since selecting Bortles with the third overall pick in May's NFL draft, the Jaguars (0-3) talked about bringing him along slowly and even suggested he might sit out the entire season.
But as the losses mounted, it became clear Bortles would be on the field sooner rather than later. Bradley told both quarterbacks earlier in the week that the change was on the horizon, and after a dismal first half against the Colts (1-2), the coach made the call.
Bradley told Henne just after they entered the locker room. And as Bradley went to talk to his defense, which allowed 330 yards and 30 points in the first half, Henne stood up in front of the offense and announced the change.
"The biggest thing for me is to just keep my head held high and try to be the captain that I was voted to be for this year and help Blake out as much as I can and really try to help this offense grow," Henne said later.
"He was drafted for this moment, and I understood it from Day 1. We had to do some really good things at the beginning of the year for keep my job.
"I hope he plays really well. I'm really pulling for him, and I'm going to be his biggest cheerleader on the sideline."
Bortles drove the Jaguars past the 50-yard line for the first time in the game on his opening drive. He led the offense to a field goal on his second possession.
He went interception-touchdown-interception-touchdown in the fourth quarter. He found Allen Hurns near midfield, and the rookie escaped two tackles en route to his third touchdown in three games.
Bortles faked a spike and threw a strike to Cecil Shorts III with 18 seconds remaining.
"He brings excitement," Shorts said. "He's a first-round guy for a reason, first quarterback chosen for a reason."
The Jaguars have been searching for a franchise quarterback for years, since Mark Brunell left after the 2003 season. They whiffed on Leftwich, Garrard and Gabbert. But believe Bortles will be the guy.
"I just love his mindset," Bradley said. "I love the strength that he has. He is a tough, hard-nosed competitor and he will attack. The team felt that part of it, and I think it's no coincidence that all of a sudden we blocked a little bit better, the receivers played a little bit better and he has a way to uplift people and uplift the team.
"It's still not good enough and still not good enough as a team where we need to be. We've got to use this momentum, the little bit that we had in the second half, we have to build on that. It will be a challenge for the whole team."
Getting the defense turned around might be as important as the quarterback switch.
The unit struggled against Philadelphia's Nick Foles and Washington's Kirk Cousins in the first two weeks. Indianapolis' Andrew Luck picked the Jaguars apart for 370 yards and four touchdowns Sunday.
"It's disappointing," Bradley said. "We really need to take a look at it and find out the accountability. ... When we come in and meet as a team we've got to have them hold themselves accountable to it because that's not how it should look.
"If you ask every man in that locker room that plays defense they would say that's not how it's supposed to look, so we've got to find the answer."
NOTES: Colts WR T.Y. Hilton (ankle) and LB Andy Studebaker (hamstring) left the game and did not return. ... Luck is first Colts QB since Johnny Unitas in 1967 to complete at least 75 percent of his passes for 350 yards, with four TDs and no INTs, in a game. ... Jaguars have been outscored 119-27 since leading Philadelphia 17-0 at halftime in the season opener.
___
AP NFL website: www.pro32.ap.org and www.twitter.com/AP_NFL