Jaguars rookie RB T.J. Yeldon sprains finger on TD run during scrimmage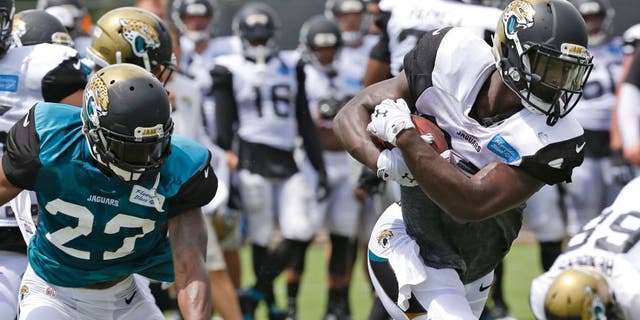 JACKSONVILLE, Fla. (AP) -- Jacksonville Jaguars running back T.J. Yeldon sprained a finger on his left hand in the team's scrimmage Saturday night.
Yeldon's hand slammed against linebacker Jeremiah George's helmet on a short touchdown run late in the scrimmage. The rookie from Alabama grabbed it immediately and headed to the sideline.
A team doctor escorted Yeldon to the locker room for tests, and the second-round draft pick later returned with his hand wrapped and iced.
Coach Gus Bradley said Yeldon has no broken bones, adding "he's good, should be good."
Yeldon had several solid runs in the scrimmage. Quarterback Blake Bortles was equally impressive, completing 9 of 15 passes for 96 yards and three touchdowns. Bortles dropped two perfectly thrown balls into the hands of Allen Robinson and Julius Thomas for scores.