Jaguars make 4 special teams errors, contributing to 19 points, in 33-23 loss at Bengals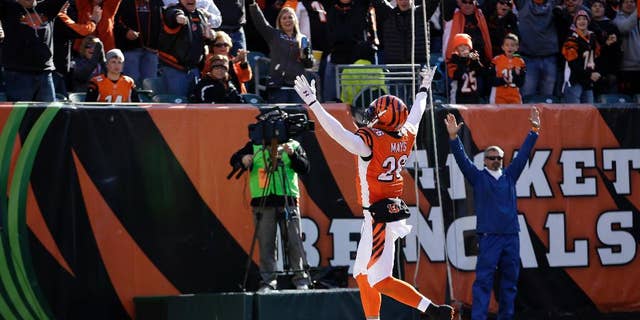 The Jacksonville Jaguars found a new way to lose Sunday against Cincinnati.
It had nothing to do with rookie quarterback Blake Bortles' mistakes or any defensive lapses.
Special teams doomed the Jaguars (1-8) in this one. Jacksonville's not-so-special units made four glaring errors that contributed significantly in a 33-23 loss.
"The special teams units, we did not perform very well," Jaguars coach Gus Bradley said. "That's not in our nature."
Aside from three blocked field goals, Jacksonville's punt and kick teams have been mostly solid all season.
They were a debacle Sunday, essentially contributing to 19 points in a 10-point loss.
Bryan Anger's first punt of the second quarter got tipped, traveled 27 yards and gave Cincinnati its best field position of the game. The Bengals turned it into a field goal.
Anger's next punt was blocked out of the end zone for a safety, putting Cincy ahead 12-3 in the closing minutes of the first half.
Things continued to unravel after the break. Early in the fourth quarter, Adam Jones returned a punt 31 yards to the Jacksonville 23. The Bengals scored a touchdown two plays later for a 26-10 lead.
Jacksonville scored twice to make it 26-23 with 8:13 remaining, but Josh Scobee's ensuing kickoff squirted out of bounds near the goal line and gave Cincinnati the ball at the 40-yard line. Rookie Jeremy Hill scored on the next play, a 60-yard run that left the Jaguars shaking their heads and looking for answers.
"Obviously they scored on the next play so it looks bad," Scobee said. "It was bad timing, obviously, and I wish I could have it back, but just got to deal with it."
Having started 10 rookies and nine second-year players through nine games this season, Jacksonville doesn't have a lot of margin for error. They rank near the bottom of the league on both sides of the ball.
The Jags have lost games because of turnovers, sacks, dropped passes, missed tackles and blown assignments. Bradley won't use his team's inexperience as an excuse, but it's reality when he's trying to get so many youngsters to compete with veteran-laden teams like the Bengals.
Regardless, the Jaguars expect better.
"It's definitely frustrating because it's things that we can control," long-snapper Carson Tinker said.
Jacksonville had plenty of other issues in losing for the 34th time in its last 41 games. Bortles threw his league-leading 13th interception in the closing minutes. The defense allowed 423 yards, including 191 on the ground. But the main culprit, for a change, was special teams.
And with one punt blocked and another one tipped, the Jaguars can expect Dallas to come after them in London on Sunday.
"They're going to want to come after it a little bit more after one does get blocked," Anger said. "It gives them another excuse to bring it. If our protection is flawed, they want to come attack it."
Bradley and the Jaguars had some positives to build on.
Denard Robinson ran for 94 yards and a touchdown, giving him 329 yard and two scores on the ground in the last three weeks. Rookie Allen Hurns, who had been relatively quiet in the previous four games, caught seven passes for 112 yards — both career highs — and two touchdowns. And cornerbacks Dwayne Gratz and Demetrius McCray did a solid job against three-time Pro Bowl receiver A.J. Green.
Special teams woes, however, overshadowed them all.
"In order to be a championship team, you have to have championship thoughts," Bradley said. "'It's OK to lose' is not a championship thought, and that's not part of our language. Be upset, be angry and be determined to come back even stronger is our mentality in the locker room."
___
AP NFL website: www.pro32.ap.org and www.twitter.com/AP_NFL