Jaguars giving DE Chris Smith chance with first team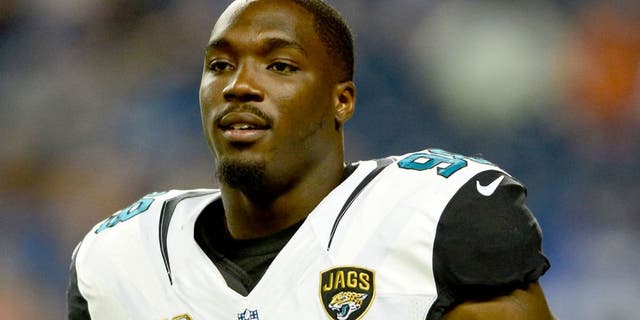 NEWYou can now listen to Fox News articles!
With defensive end Andre Branch set to miss "significant time" with an MCL injury according to head coach Gus Bradley, the Jacksonville Jaguars are giving Chris Smith a chance to work with the first team.
Smith, a fifth-round draft pick in 2014, occupied the pass-rushing Leo position with the starters during Sunday's practice.
He's the latest player to occupy the spot since the end of last season for Jacksonville. First-round draft pick Dante Fowler Jr. was expected to be the starter, but he was injured during the first day of rookie camp and is out for the season. Branch had been working as the starter during the preseason, but he injured his knee Saturday Friday against the Detroit Lions and his return is unknown. That provided the opportunity for Smith, who said he was surprised when coaches told him he was working with the first team.
"I hate to see my boy Andre Branch go down, but that's our business,'' Smith said, per Vito Stellino of the Florida Times-Union. "Injuries happen and everybody has to step up.''
Chris Clemons, who started at Leo last season for the Jaguars and had eight sacks, skipped the voluntary portion of the team's offseason program and sat out the first two weeks of training camp as well. As Stellino notes, he's currently expected to be a third-down rusher.
Smith played in seven games a rookie, recording six tackles, three sacks and a forced fumble. His said the biggest change in his role over last season, when he played on third downs, is the amount of film he'll watch in preparation.
"Now, I have to watch more first and second down," Smith said, per the team's official website. "Guys like (tackles) Roy (Miller) and Sen'Derrick (Marks), they're real good guys on run fits. I'm going to get with those guys and team up. You become more of a student of the game as you go longer and longer in the league."
(h/t Florida Times-Union)