Jaguars expect to have WR Allen Hurns (sports hernia) vs. Titans on Thursday night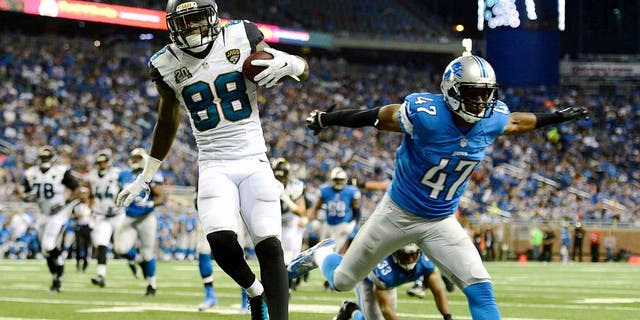 JACKSONVILLE, Fla. -- The Jacksonville Jaguars won't have defensive tackle Sen'Derrick Marks for the rest of the season.
The team, however, will have receiver Allen Hurns against Tennessee on Thursday night.
Coach Gus Bradley said Tuesday the team will put Marks on injured reserve this week, days after Marks tore the triceps muscle in his right arm at Baltimore. The official roster move likely will come Wednesday, when rookie receiver Rashad Greene is eligible to be activated from short-term IR. Green missed seven games while recovering from a torn ligament in his left thumb.
Marks will miss the final seven games of the season. Tyson Alualu, Abry Jones and rookie Michael Bennett are expected to fill the void.
Marks missed the first five games while recovering from knee surgery in January, so he'll end up missing 12 games in his second year of a four-year, $18 million contract.
Hurns raised eyebrows Monday by traveling to Philadelphia to meet with sports hernia specialist Williams Meyers. Hurns missed a walkthrough Monday, but practiced in full Tuesday and expects to play.
"I don't know why it was such a big deal," said Hurns, who also visited Meyers following a Week 3 loss at New England. "I've been up there already. It's something I've been going through the whole year."
Hurns said there is "a possibility of surgery, but it all depends on how it heals up."
Hurns, who has played in every game during his two seasons, added that he has no doubts he will play when the Jaguars (3-6) host the Titans (2-7). Hurns has caught a touchdown pass in a franchise-record seven consecutive games.
"There was more uncertainty for last week than this week," said Hurns, who played through a foot injury against the Ravens.
Running back T.J. Yeldon (foot) missed practice Tuesday, but said he expects to play against Tennessee.