Jaguars 'excited' about rookie WR Greene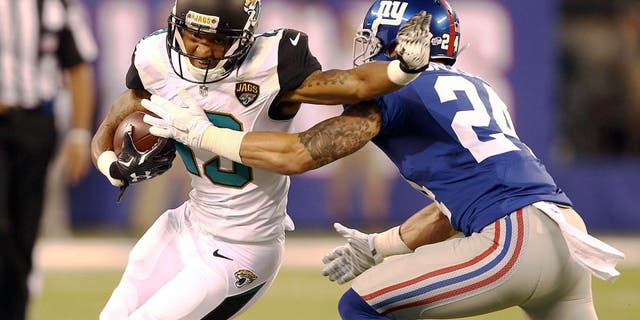 Injuries to a pair of key teammates provided Jaguars wide receiver Rashad Greene with increased playing time in Jacksonville's exhibition game against the New York Giants last Saturday, and head coach Gus Bradley said the rookie out of Florida State responded well to the opportunity.
With Thomas out the rest of the preseason with a fractured hand suffered against the Pittsburgh Steelers Aug. 14, Bradley said the team plans to use more three-receiver formations on offense. Since fellow receiver Marqise Lee is also out with a hamstring injury, the extra snaps have been going to Greene.
The fifth-round pick played three series with Jacksonville's offensive against the Giants, catching two passes for 14 yards. He was targeted four times.
"With the injury to Julius it put us in a position where we wanted to play with three-wide a little bit more and really evaluate that position," Bradley said, per ESPN. "(Greene) took advantage of it (with) a nice catch in the game and just some of the things that we've seen in practice."
Bradley also praised Greene's work as a punt returner. Although he struggled against the Giants, returning two punts for just yards and muffing one attempt, Greene turned in a strong performance against the Steelers, including one return of 37 yards.
"He'll catch it and go north and south (on returns)," Bradley said. "I think the combination of that (punt returns and his play as a receiver) has got us excited about him."
(h/t ESPN)