Jaguars DT Marks' still aiming for Week 1 return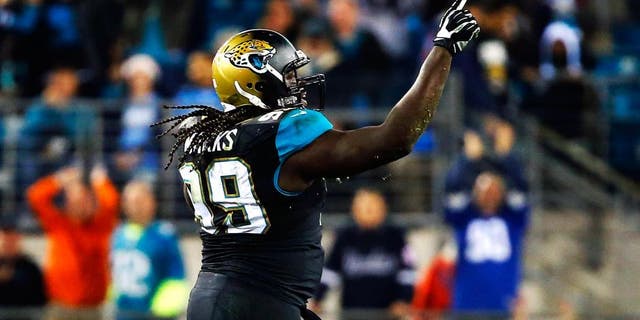 NEWYou can now listen to Fox News articles!
Jacksonville defensive tackle Sen'Derrick Marks is holding firm to his goal of playing in the team's season opener, despite missing the Jaguars' offseason program, OTAs, minicamp and all of training camp thus far as he works his way back from a torn ACL.
"I feel good about it," Marks said, per ESPN's Mike DiRocco. "I don't know what's going to happen, but I'm going to keep on approaching it that way."
Marks hurt his knee during Jacksonville's season finale against the Houston Texans last December. He's been on the team's physically unable to perform list since the beginning of training camp.
While the seven-year veteran is optimistic about his chances of playing in Week 1, his coach sounded less certain.
"It's tough to say," head coach Gus Bradley said. "I don't want to take away his spirit of thinking that it could (happen). There are some barriers that we have to overcome to get him to that point, but in his mind he's going to be ready, and in our doctor and trainer's mind he's going to be ready.
"He's got a shot, and that's just what we're going off of. But is it a challenge? (An) uphill battle? Yes, it is."
The 28-year-old first must be activated from the PUP by the start of the regular season. If he's not, he'll have to sit out the first six games.
When he does return, one thing Marks said he isn't going to do is spend time worrying about the possibility of re-injuring himself.
"I think I'm pretty screwed up in the head enough to where it won't bother me," he said. "If you can say the only way you hurt it again is by you doing something awkward again, then yeah I can go out and play 100 percent."
(h/t ESPN)