Jaguars DC Wash: 'I can't wait to put my hands on' Dante Fowler Jr.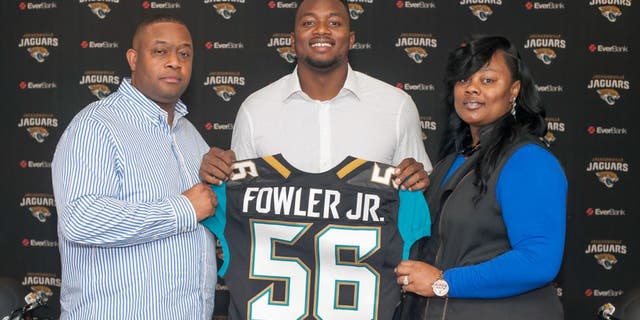 New Jacksonville Jaguars defensive coordinator Todd Wash is charged with fixing a defense that finished 31st in the NFL on third-downs in 2015, among other struggles.
One big way Wash hopes to get his defense off the field is by rushing the passer, something the Jaguars had difficulty doing throughout the season. Jacksonville finished the year with just 36 sacks.
Friday, Wash said next season's return of Dante Fowler Jr. should offer a major boost. Fowler, the third overall pick in last year's draft, tore his ACL in Jacksonville's rookie minicamp in May and was lost for the season.
Wash said he envisions moving Fowler around, lining him up over any of the five spots along the offensive line.
Via Jacksonville's official website:
Fowler was expected to provide the Jaguars with a much needed pass-rushing presence in 2015. Instead, defensive lineman Jared Odrick led the team with 5.5 sacks in Fowler's absence. Wash said the impact of the rookie's injury was evident.
Wash added Fowler's progress as he works his way back has him even more excited about the prospect of working with the former University of Florida standout next season.