Jaguars commit to QB Blake Bortles by picking up his fifth-year option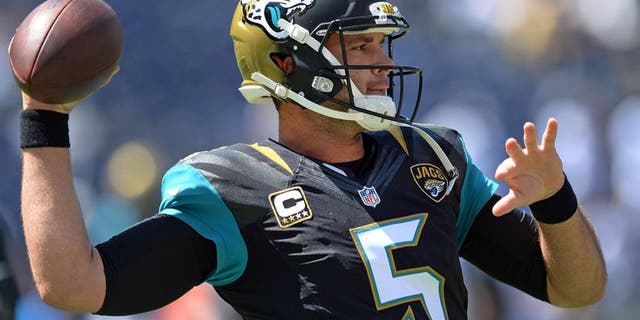 The Jacksonville Jaguars never ended up selecting a quarterback in the NFL Draft, so maybe they werent as down on incumbent starter Blake Bortles as it seemed.
After an offseason spent avoiding commenting on whether theyd pick up his fifth-year option, the Jaguars did so Monday, two days after the completion of the draft.
Jacksonville has a new head of football operations in Tom Coughlin and a new coach in Doug Marrone, so the silent treatment this offseason seemed to indicate that the team was at least considering changing plans at quarterback after a season in which Bortles regressed from 35 touchdown passes and 18 interceptions in 2015 to 23 and 16 in 2016.
The team now has the 25-year-oldsigned for 2018 at about $18 million.
This is a smart business decision for the team for several reasons, Jaguars executive vice president of football operations Tom Coughlin said in a statement. It makes sense for us going forward, and its good for Blake and for the Jaguars.
Jacksonville went 3-13 in 2016 and cleared out both its front office and coaching staff. It ended up selecting running back Leonard Fournette with the fourth pick in the draft, a move that should give Bortles a strong running game to work with for the first time since hes been in Jacksonville.
Christian Petersen | Getty Images