Jags rookie DT Bennett impressing against the run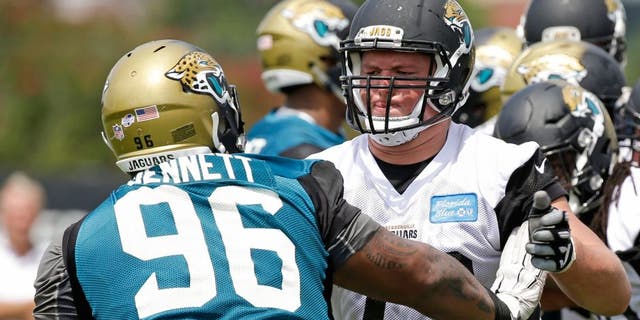 Jacksonville rookie defensive tackle Michael Bennett has been getting extra reps in training camp with starter Sen'Derrick Marks still recovering from a torn ACL.
Bennett, a sixth-round pick this year out of Ohio State, has earned positive reviews from Jaguars defensive line coach Todd Wash for his play in camp thus far.
"I liked Mike when he was coming out," Wash said, via ESPN. "We're fortunate to have him. He's very, very strong at the point of attack. He's got real good hands. He's a good run defender. We've got to keep working the pass rush side of things but we're excited with his progress."
The 6-foot-2, 293-pound Bennett had 18 sacks during his career with Buckeyes, but Wash said it's his run defense that has stood out thus far.
"He's a lot stronger and stouter than I thought he was going to be," Wash said. "He holds up really well in double teams, presses the line of scrimmage nicely, so we're really excited about him in the run game."
The 22-year-old Bennett said the Jacksonville defense is tailored to his strengths.
"I think it's a perfect fit or me," Bennett said. "That's what I played my whole life -- just attack and react. This defense, I feel like it's built for me, so I really hope to stay here and just grow here and be able to eventually excel with this team."
If Bennett continues his strong camp, he may well earn himself significant playing time as a rookie, even after Marks returns to the lineup.
(h/t ESPN)
Photo credit: John Raoux/AP