Jags DE Alualu proves effective as fullback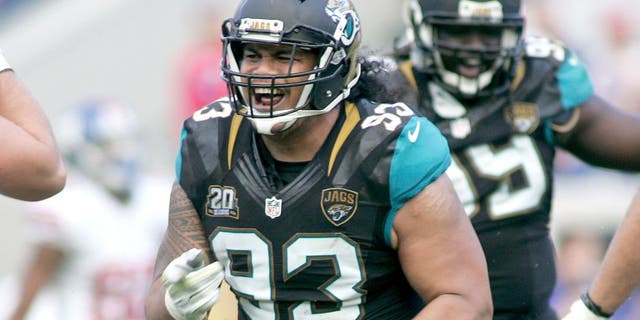 After experimenting with defensive end Tyson Alualu in a lead-blocking role during training camp, the Jacksonville Jaguars gave the veteran a chance to show what he can do at fullback during last Saturday's preseason loss to the New York Giants. And while it was only one game, the results were encouraging.
The 6-foot-3, 295-pound Alualu's blocking helped Jacksonville running back Toby Gerhart convert three third-and-short situations for first downs in the game.
"I don't think anyone wants to get in his way when he's coming full-head-of-steam at him," Gerhart said, per the team's official website.
Gerhart said he was pleased head coach Gus Bradley and Jacksonville's coaching staff showed a commitment to running ball in short-yardage situations with Alualu in the game.
"On third-and-2 a lot of times people have a run-pass option," Gerhart said. "We just said, 'Hey, we're going to go heavy and we're going to go after this and we're going to get it.' … It was exciting to establish our identity. He has faith in us in what we want to do."
While Alualu may never actually get to touch the ball, Saturday's success may mean his extra work on offense will last beyond the preseason.
(h/t Jacksonville Jaguars)