Jags' Bowanko: 'I'm excited for whatever role I have on this team'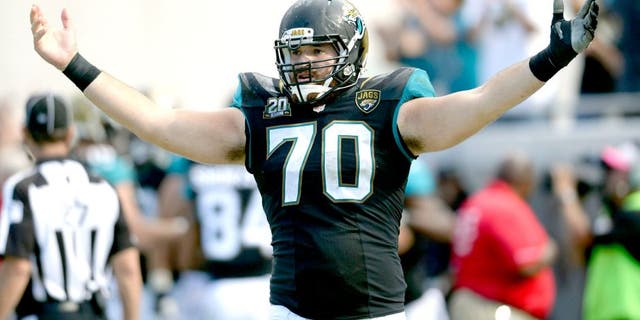 Jacksonville Jaguars center Luke Bowanko, who lost the starting center competition to veteran Stefen Wisniewski, took the high road on Tuesday, offering his support to Wisniewski.
Bowanko, a sixth-round pick in 2014, started 14 games as a rookie last season. He said understood the team's decision to go with Wisniewski, who signed with the Jaguars as a free agent during the offseason.
"I'm not one to make consolation speeches, but Wiz gives the team the best chance to win,'' Bowanko said, per Vito Stellino of the Florida Times-Union. "That is what it is. I'm looking to give myself an opportunity in another way to make us as good as we can be. He's a helluva player. He's earned everything he's got. I'm excited to see him and these guys jell together and take on the regular season. It'll be fun to watch.
"'I'm a young guy who was blessed to be in a situation last year where I got to play a lot and I learned a lot,'' Bowanko said. "Getting that competition made us both better, made this team better. Whatever they need me to do I'll play. If they want me to play D tackle on the scout team, I'll do it.
"I've got to find different ways to keep improving because it's not going to be on Sundays as much. I'm excited for whatever role I have on this team,'' Bowanko said.
On Monday, Jaguars head coach Gus Bradley offered a hint as to what Bownako's role might be, saying the second-year lineman would see practice reps at tackle moving forward. Bradley said Bowanko has the athletic ability to make the transition from center on the outside of the line.
"He is a very hard worker," Bradley said, per the team's official website. "He's got some athleticism to be a tackle-type, so we want to take a look at him. I know in talking to him (Monday) he appreciates the opportunity of being that sixth guy that can play any of the spots, so we're going to try it out."
Bowanko is expected work mostly at right tackle, though Bradley said he would receive reps at left tackle as well.
(h/t Florida Times-Union)