JaCorey Shepherd could be perfect fit for Eagles at nickel CB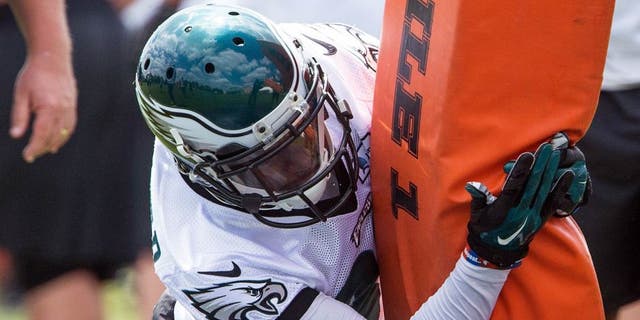 When the Philadelphia Eagles dealt cornerback Brandon Boykin for a fifth-round draft pick on Saturday, the depth chart was shaken up. Byron Maxwell and Nolan Carroll will likely still operate as the starters, but the nickel/slot cornerback role is up for grabs. Rookie sixth-rounder JaCorey Shepherd stepped right into action with the first team defense on Sunday, and he will be given every opportunity to hold down the fort on the inside.
Taking it back a few months, Shepherd ran the 40-yard dash while nursing a hamstring injury, and he ran it 4.65 seconds. This time devastated his draft stock and it was the direct cause for Shepherd's draft weekend tumble.
When you look at the game tape of Shepherd during his collegiate career, it certainly doesn't look like you're watching a 4.65 athlete. Of course, he's not a deep burner either. Shepherd made a name for himself at the collegiate level by displaying incredible ball skills and the ability to break on passes and force completions. This skill set is perfect for the slot cornerback position.
At Kansas, ball skills came natural to Shepherd after converting from wide receiver to cornerback. He ended his 26-game career at Kansas with five interceptions and 37 pass breakups. According to Pro Football Focus, Shepherd's 38.6 percent catch rate allowed last season was the lowest in the entire FBS and his 53.0 quarterback rating against was also in the top 10 at his position.
Boykin was one of the best slot cornerbacks in the NFL over the past two seasons, but Shepherd doesn't have to step right in where Boykin left off. There will be hiccups along the way. However, if Shepherd can keep up at this pace, he will prove that he is the Eagles' best option i the slot. For the sixth-round rookie, you would have to imagine that earning this role would be very close to how he imagined his dream rookie season playing out.