Jacksonville Jaguars at Houston Texans game preview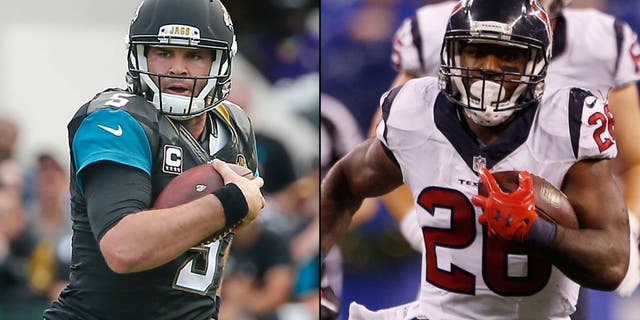 TV: CBS
Time: Sunday, 1 p.m.
HOUSTON -- Despite notching a win that to an extent salvaged their postseason hopes, the Texans haven't yet found themselves in position to rest on their laurels.
Should the Texans (7-6) defeat the visiting Jacksonville Jaguars (2-11) on Sunday at NRG Stadium, they'll inch one step closer to clinching the AFC South title. Houston would improve to 5-0 in the division with games against the Bengals and Titans remaining, with that finale in Tennessee and the division title likely up for grabs.
By beating the Colts in Indianapolis for only the second time in franchise history, the Texans remained in a first-place tie with Tennessee. And while Jacksonville doesn't present a serious threat to disrupting their momentum, the Texans will enter the matchup hamstrung in the passing game, already an offensive weakness.
With receivers Jaelen Strong and Braxton Miller on injured reserve, the Texans also have tight end C.J. Fiedorowicz in concussion protocol. Fiedorowicz is second on the team in receptions (48) and receiving touchdowns (two), and third in receiving yards (505). He is a huge loss for a passing attack ranked 30th in the NFL.
"C.J. is a big part of what we've been doing, obviously," Texans coach Bill O'Brien said. "He's had a good year. He's a guy that does both things well. He blocks well and obviously he's had a good year in the passing game. I'd put him in the day-to-day category. He's played a lot snaps for us this year. He's pretty banged up but I know he's going to do everything he can to try to play on Sunday. I know that.
"As far as the passing game goes, I think it's a unit that steps up week in and week out. I know it hasn't been the numbers that maybe everybody looks at but I think there's been some consistency in some of the certain routes that we run and things like that. I think our guys understand the game plan. They understand how we want to attack Jacksonville."
Given their roster attrition, the Texans must lean on their prior postseason experience to navigate the final three weeks of the season. There are veterans sprinkled throughout the roster, even some who aided playoff runs elsewhere.
The Texans have pointed to marginally improved play from quarterback Brock Osweiler, who in turn believes his experience in Denver last season is beneficial.
"I was very fortunate in my time in Denver to be a part of playoff teams, be a part of teams that were fighting for playoff positions in the month of December," Osweiler said. "Then, obviously, last year I was fortunate to be able to contribute actually on the field. Just like I always talk about in here, there's nothing that replaces game reps.
"Well, there's nothing that replaces experience of being able to experience the playoffs. So, just being around that team, I think it helps me out big-picture-wise of what to expect this month, how to prepare and how to go about things."
The Jaguars have no such expectations. After following a pair of one-possession losses in September with back-to-back victories over the Colts and Bears in October, Jacksonville has dropped eight consecutive games. Four of those losses have come by one score, underscoring how frustrating this season has been for the Jaguars.
"I think it definitely took us by shock," Jaguars wide receiver Allen Robinson said of the skid. "I think offensively it's not something that we thought at all. Unfortunately, it is the position that we are in, but at the end of the day, we are still trying to build some light up and trying to get some momentum heading into next season."
That resolution leaves the Jaguars playing the role of spoiler yet again, especially given their closing schedule. After visiting the Texans this weekend, the Jaguars will host the Titans before closing on the road in Indianapolis. With the Colts just one game behind Houston and Tennessee, the Jaguars will have a say in the AFC South.
"Well, anytime it's an AFC South opponent, I think every team in our division is looking at that saying, 'We all want to own the AFC South,'" Jaguars coach Gus Bradley said. "When you have three opponents like we do the next three games, it's a great opportunity."