Jackie Bradley Jr. is chasing a DiMaggio, just not Joe yet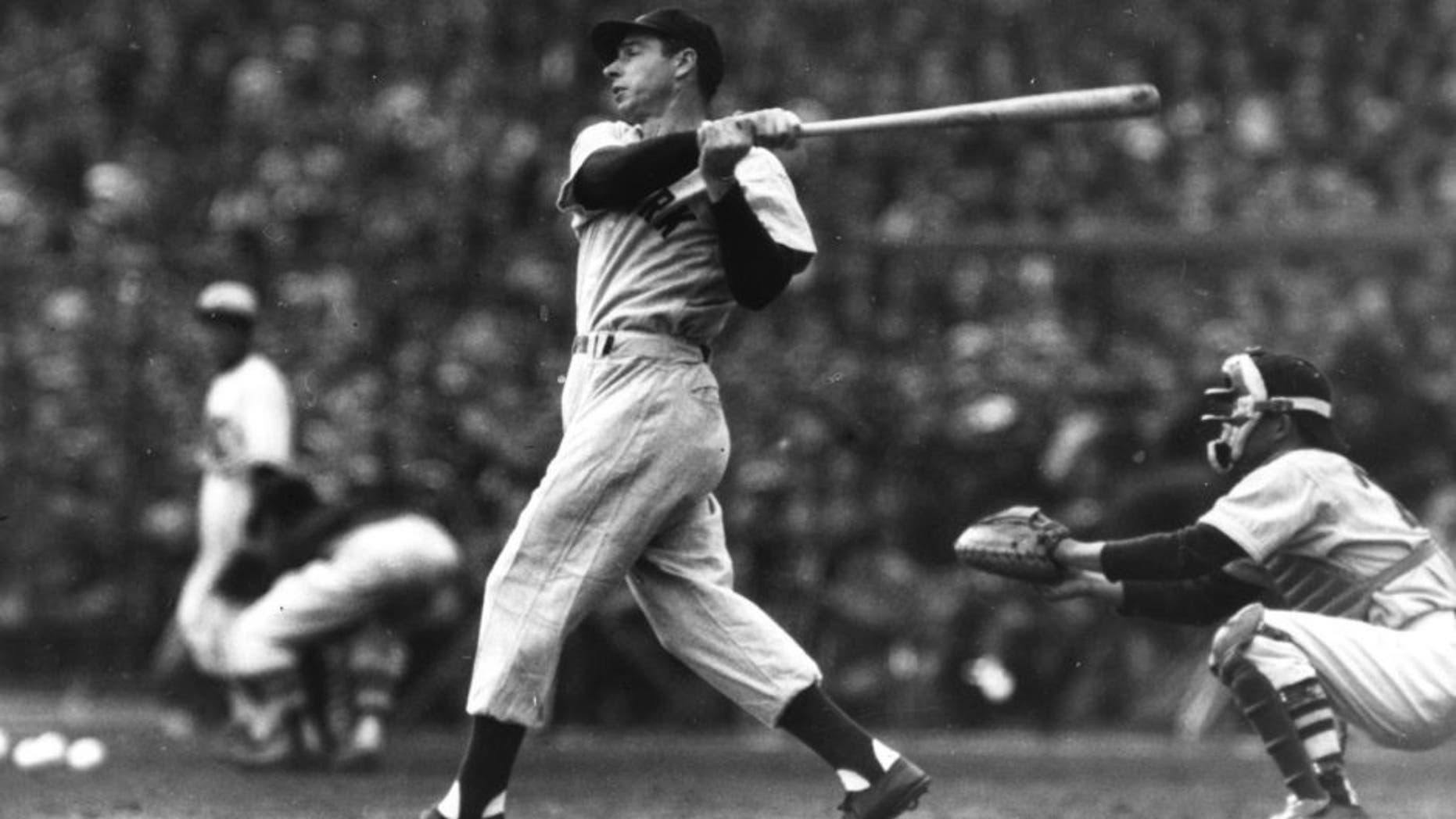 With hits in 29 straight games, Jackie Bradley, Jr., is more than halfway to Joe DiMaggio's all-time record of 56. But before he closes in on the Yankee Clipper, Bradley first has to pass another DiMaggio -- Joe's brother.
Dom DiMaggio spent 11 seasons as an center fielder for the Boston Red Sox from 1940-53 (he missed three full seasons due to military service during World War II). He was a seven-time All-Star who led the AL in runs scored in 1950 and '51 -- he also led the league in triples and steals in 1950 -- and was known as the Little Professor due to his trademark glasses and slight frame.
The younger DiMaggio also, in 1949, hit safely in 34 consecutive games, breaking Tris Speaker's franchise mark of 30 games, set in 1912. The streak, which still stands today, began on June 29 and ended on Aug. 9 with an eighth-inning lineout to his brother.
"I smacked a line drive right up the middle so hard that it passed (Yankees pitcher Vic) Raschi's ear!" Dom DiMaggio recalled in Alan Schwarz's 2007 book Once Upon a Game: Baseball's Greatest Memories. "He ducked to get out of the way of it! As soon as I hit it, I said, 'OK, that's 35.' But that ball wouldn't drop. The ball refused to drop.
"Joe is standing out there in center field, and he didn't have to move," DiMaggio continued. "He said it himself later -- if he hadn't caught the ball, it would have hit him right between the eyes. So there was no effort on his part. It wasn't a great play by him, like they're still saying today. I just hit the ball too damn hard!"
Bradley's 2-for-4 effort Tuesday moved him into a tie with Johnny Damon (2005) on the Red Sox all-time list. A hit Thursday against the Colorado Rockies would bring him level with Speaker and Nomar Garciaparra, who had a 30-game hit streak of his own in 1997. Boston then travels to Toronto for three games with the Blue Jays beginning Friday, with the road trip continuing on to Baltimore, where Bradley could potentially tie the lesser-known DiMaggio on Monday.
As for Joe DiMaggio, his 56-game streak is thought to be one of baseball's most unbreakable records. His run began 75 years ago this month, on May 15, 1941, and ended on July 17 of the same year. Should Bradley play and record a hit in every Red Sox game going forward, he would tie the all-time mark on June 24, against the Texas Rangers, with the potential to set a new record the following night in Arlington.
However, getting there won't be quite that easy -- something Bradley's manager, John Farrell, knows well.
In addition to Joe DiMaggio, only two other players have strung together a hit streak of 40 games or more in the live ball era (Pete Rose's 44 in 1978 and George Sisler's 41 in 1922). In 1987, Paul Molitor of the Milwaukee Brewers hit safely in 39 consecutive games before he went 0-for-4 in a 1-0, extra-inning win over Cleveland.
The pitcher on the mound for the Indians that night? Farrell.
"It's the only game I've ever been involved in with the home team winning on a walkoff hit and Rick Manning being booed with Molly standing on deck," Farrell told The Boston Globe recently, recalling Manning's game-winning RBI single with Molitor set to bat next in the 10th. "You took some solace in the fact that there were no other pitchers involved in ending (Molitor's streak)."
A third DiMaggio, Vince, also spent 10 years in the majors. However, his longest hitting streak was 12 games, set while playing for the Pittsburgh Pirates in September 1941. Prior to his current run, Bradley's longest hitting streak was eight games.
You can follow Sam Gardner on Twitter or email him at samgardnerfox@gmail.com.