'Jacare' Souza vs. Vitor Belfort headlines UFC in Brazil on May 14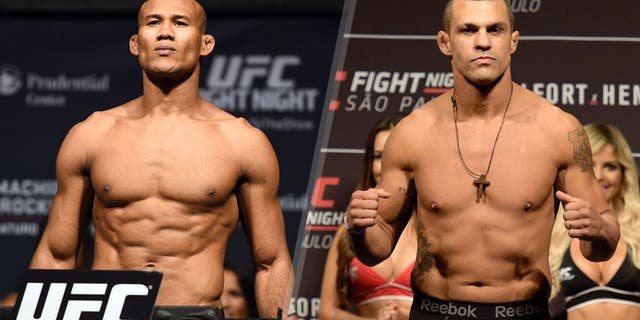 A huge middleweight showdown is headed to Brazil with No. 2-ranked Ronaldo "Jacare" Souza set to face No. 3-ranked Vitor Belfort in a headline fight on May 14.
UFC officials confirmed the new fight on Tuesday although the location for the bout has not been announced as of yet.
"Jacare" will look to secure a title shot with a win after a disappointing split-decision loss in his last fight against Yoel Romero at UFC 194.
Romero ended up with a potential anti-doping violation from the fight, which put Souza back in position to reclaim his spot as the top contender in the division.
Souza now faces a former UFC champion with a title shot all but guaranteed with a victory.
As for Belfort, he returns to action following a first-round knockout over Dan Henderson in his last fight.
Belfort fell to former champion Chris Weidman in 2015, but holds a knockout win over current title holder Luke Rockhold. A win over "Jacare" could put Belfort back in line for another title shot against Rockhold in the future.
More bouts will be added to the card in the coming weeks with venue and ticket on-sale information still to come.