It's time for Diego Simeone to leave Atletico Madrid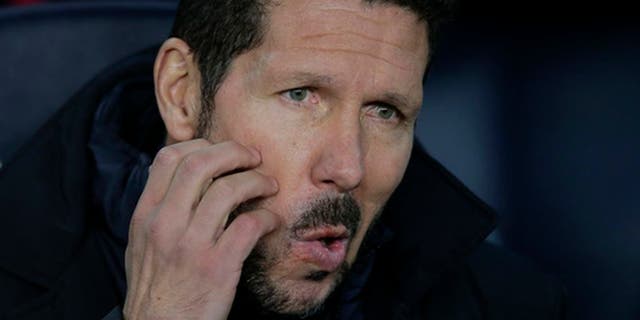 Over the last sixyears, Diego Simeone's done the impossible. He almost singlehandedly turned Atletico Madrid from Real Madrid's annoying little brother -- the also-ran of La Liga -- into a consistent challenger both domestically and in Champions League. Under his stewardship, Atletico transformed from a team where fourth place was an accomplishment and Champions League a distant dream, into a La Liga winner and two-time Champions League finalist.
To say that Simeone has been a wizard at Atleti is an understatement. But it's time for him to leave the club.
As magnificent as Simeone has been, it looks like he can't take them much further. After years of success despite the hindrance of a limited budget, theconstant departures of his best players, and in the shadow of world soccer's two biggest clubs, Atletico have plateaued under his leadership. Now, it finally looks like it's just about time for El Cholo to move on to greener pastures.
Atletico won't push him out the door. They'd be crazy to. But Simeone is one of the world's elite managers andneeds to take his shot at the top spot in the world, which he can't do at Atleti anymore. It's on him to walk away.
When Diego Simeone arrived in 2011, Atletico were just coming off a 7th-placed finish in La Liga. They hadn't finished in the top three since the 2001-02 season, when they won the league, and they hadn't sniffed the Champions League knockout rounds since 1997. Atletico were known as a team who played some good football, produced some quality players from time to time, but they were never known as serial winners. Not until Simeone arrived.
In just over a half-decade with Atletico, Simeone has brought no less than five trophies to the Vicente Calderon, including performing a minor miracle in breaking the Barcelona-Real Madrid duopoly and delivering a Spanish league trophy in 2013-14; the first time in a decade a team outside the two giants had stood atop La Liga.
Simeone's trophy haul at Atletico has been no less than phenomenal, but to look only at his silverware is to diminish the scope of his achievements at Atletico. Under his leadership, they didn't just become a contender domestically and in Europe; they became one of the most feared teams on the continent.
Simeone's Atleti have varied in their personnel, but his signature is stamped all over the teams he's put out year after year: collective unitspredicated on compact organization, a rabid determination not to concede goals, and a flexible, constantly shifting attacking philosophy tailored to the players Simeone has to work with.
Simeone's been the perfect fit for Atletico for the past half decade in large part because of that flexibility. With a fraction of the budget available to clubs like Real Madrid and Barcelona, Cholo's had to deal with seeingkey players sold from under his nose year after year, but he's still managed to put out competitive teams despite having to reload every single season. Since Simeone took charge, Atletic have sold off players by the truckload, with the likes of Falcao, Diego Costa, Arda Turan, Mario Mandzukic and Toby Alderweireld all seeing the exit doors. It hasn't seemed to matter to Simeone, and year after year he's proven he can thrive under those conditions.
Simeone's signature is his insatiable energy for winning, nearly unmatched intensity, and his ability to drag the very lastbit of quality and inspiration out his players; there aren't many managers in the world who are as gifted at that last task as the former Argentina international. Players like Juanfran, Tiago and Gabi weren't -- and aren't -- names anyone would name as world class by any stretch of the imagination, but we've seen them do the job for Simeone at the very highest level, year after year, with unerring consistency.
As incredible of a motivator as Simeone is, he's not just known for prowling up and down the Atletico touchline dressed in all black like some kind of screaming, sartorially forwardGrim Reaper. It's his work on the tactical side of things that's turned Atleti into a true monster both domestically and abroad.
Atletico have bridged the gap between them and the biggest sides in the world not because of talent. It's been because of team spirit fostered by Simeone, and his now-legendary abilityto consistently out-coach his opposite number on a regular basis. Atleti are a terrifying proposition in a one-off match, and overtwo legs, they've proven themselves nearly impossible to beat for the last half decade.
The only team who can really claim to have regularly gotten the better of Atletico during Simeone's tenure has been bitter rivals Real Madrid. Despite Simeone's incredible tactical nous and ability to inspire his players, they simply haven't been able to beat Big Brother, and Wednesday's exit at the hands ofReal for the fourthyear running in Champions League might just have been the end of an era.
Simeone's worked miracles in the shadow of the bigger Madrid side and the Barcelona bullies to the northwest, but the magic may just have run out. For years, he's eked out every single bit of effort and quality Atletico had on offer, but the team just doesn't look like they have what it takes to bridge the gap. After six years, Simeone simply can't get any more blood from the stone. For the first time in the Simeone era, his players simply didn't have the quality orthe energy to match Real over two legs. For the first time in the Simeone era, he looked out of answers.
For years, Simeone has done the impossible. And it hasn't been enough. He's found the upper limit of what can be done at Atletico Madrid, repeatedly hitting hit head on a ceiling no one thought Atleti would ever find again.
So what now?
Simeone's contract expires in 2018, and he's previously stated a desire to see it out with Atletico. However, with the distinct possibility of seeing more of his key players sold off while Real Madrid and Barcelona just get stronger, there's more than a passing reason to believe he won't be on the Atletico Madrid sideline next year.
Simeone's been at Atletico for nearly six years. That's longer than any manager at any of Europe's biggest clubs, and it's a testament to the incredible work he's done on the Atleti sideline. But at this point, getting themover the hump looks out of even El Cholo's extensive reach. No disrespect to Atletico Madrid, but Simeone's just too big for the club now. He's pushed them as far as they can go, and now it's time for him to find a club who can match his ambitions and ability with the resources it takes to win at the highest level.
He's been one of world soccer's most coveted managers for years now, and if he decides to leave this summer, he'll have his pick of some of the game's most intriguing jobs. Both Milan clubs are in flux, having just undergone ownership changes, and the former Inter Milan midfielder's assertions that he'd one day coach his old club haven't gone unheard. Inter are likely in pole position, but with Arsene Wenger and Arsenal's future up in the air, and the possibility to coach in England at one of the country's most storied clubs on the table? Who knows?
Simeone's taken Atletico as far as he can, but now it's time for him to take on a new challenge.