It's a banner day for Miami's Golden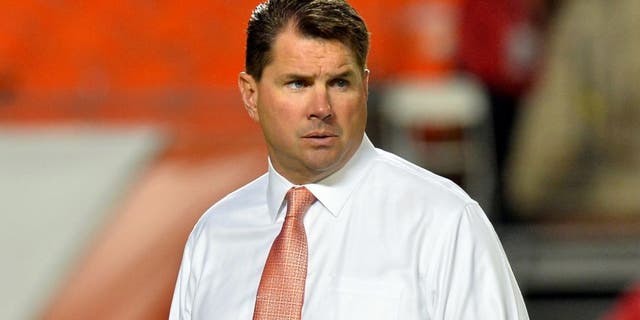 NEWYou can now listen to Fox News articles!
Miami's embattled head coach is getting both criticism and support Steve Mitchell USA TODAY Sports
The airplane banner saga continued this Saturday for beleaguered Miami head coach Al Golden.
Ahead of a massive ACC tilt versus Virginia Tech, multiple banners yet again flew over Sun Life Stadium, all focusing on Golden's future with the program.
Since the start of the year, various banners have been flown over Miami's home stadium, criticizing the head coach. Staying consistent with the "anti-Golden" sentiment, another banner was present on Saturday afternoon. It read: "Al's only signature win is is his contract #FIREALGOLDEN."
Interestingly enough, there were two banner flown over the venue in support of Golden. In fact, one of them is rumored to be paid for by the "Marlins Man" Laurence Leavy. Leavy is said to be a rabid of rival Florida State.
Throughout his career in Coral Gables, Golden is 31-24. He has a 58-58 record overall as a head coach.