It was Manuel Neuer vs. Gianluigi Buffon, and there was always going to be 1 winner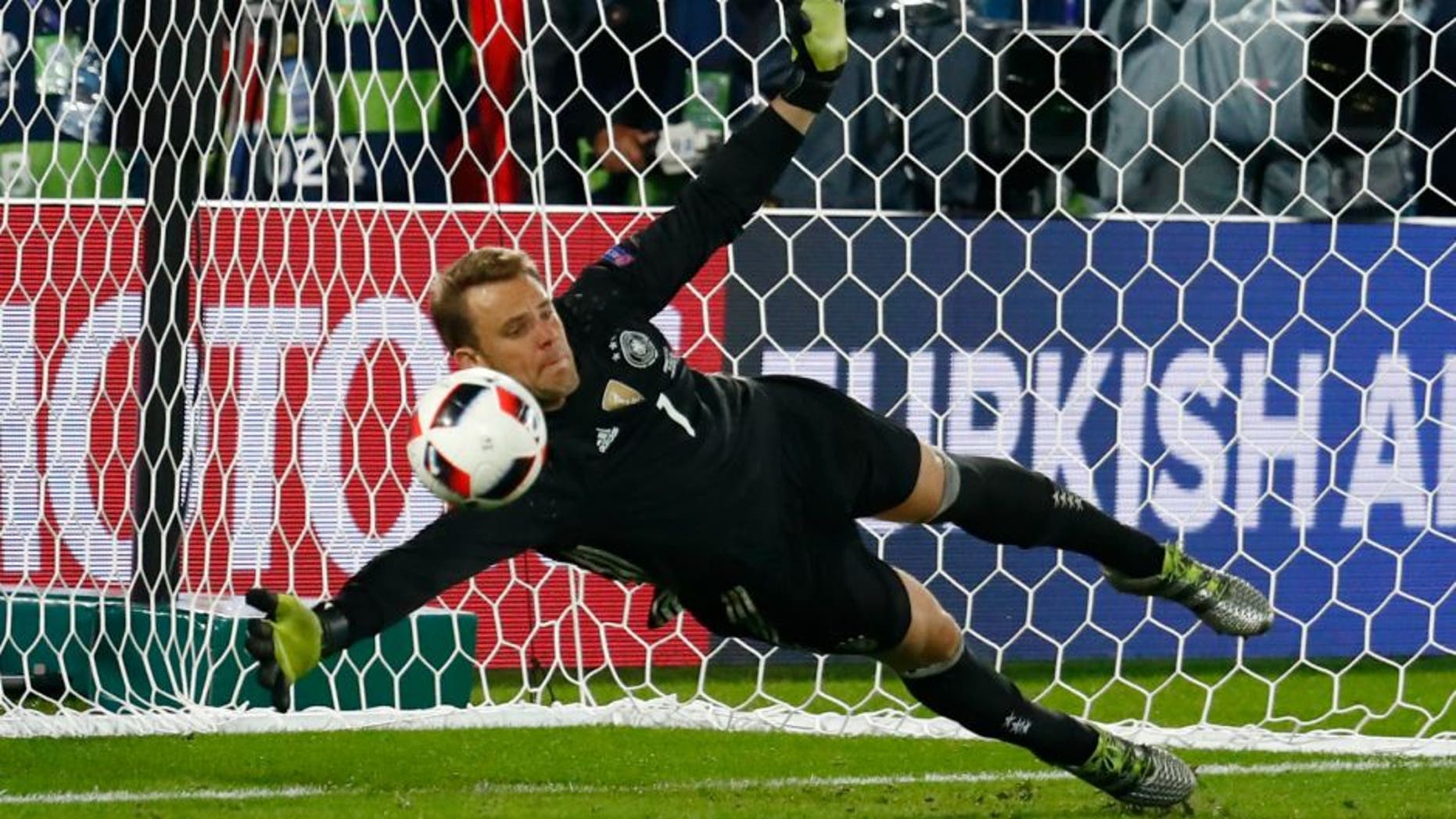 When 120 minutes couldn't separate Germany and Italy, we got what we all wanted: Manuel Neuer vs. Gianluigi Buffon in a penalty shootout.
It was the best goalkeeper in the world against the backstop who held that title for years. The current world champion against the man who won that title a decade ago. One icon against another.
That also proved to be the problem with the goalkeeper match-up. Neuer is 30 years old, right in the prime of his career, while Buffon is 38 and still good, but not nearly the unbeatable wall he once was.
The shootout will be remembered for the many misses. Be it Zaza's bizarre run-up that saw him shoot well over the bar, Graziano Pelle pulling it well wide, Mesut Ozil rattling the post or Bastian Schweinsteiger blasting it nowhere near the frame, the shooters certainly didn't do their part. Maybe it was the heavy legs that come with 120 minutes of soccer -- although Zaza had only been on for 30 seconds -- or the pressure of having to make a single kick with the world watching, but there were a slew of bad shots.
One could argue that the goalkeepers are responsible for some of that too, especially in Neuer's case. His constant movement may have thrown Italy shooters, and you couldn't blame the Azzurri if they were undone by thinking they had to be perfect against the world's best shot-stopper. But it was the actual saves he made that really set him apart.
Leonardo Bonucci, who had converted a spot kick earlier in the match, didn't make much of a mistake with his shot in the penalty shootout. He kept it low and it would have hit the side netting if not for Neuer somehow managing to get all the way to the post for a magnificent save. Neuer was also up to the task of denying Matteo Darmian, once again getting down low to set up Jonas Hector to win the shootout.
Hector's shot wasn't much different than Darmian's. Low, but savable. At least it was savable for Neuer. Buffon guessed right and was in position to make the stop, but couldn't as it snuck underneath him to let Germany advance to the semifinals.
Unfortunately for Buffon, going the right direction and having a chance to make the save, only to see it find the back of the net became a theme. His experience and ability to read the game saw him go the right way on more than half of Germany's shots, including several of them late in the shootout. But they kept scoring anyway.
That's not to say Buffon was necessarily bad. He made a sensational save on Mario Gomez to send the match to extra time and was able to save Thomas Muller's spot kick, but he wasn't the amazing shot-stopper that he was a decade ago. Or that Neuer was on this day.
Neuer was at full stretch, getting to the posts and looking every bit like the best goalkeeper in the world. There was a time when Buffon would have made those saves and had that title. But not in 2016. It's Neuer's world, and while seeing the two legends square off in a penalty shootout was exactly what we wanted, one man was always likely to come out on top. And Neuer did.
MORE FROM FOX SOCCER