It appears the Oilers still don't like Brandon Manning very much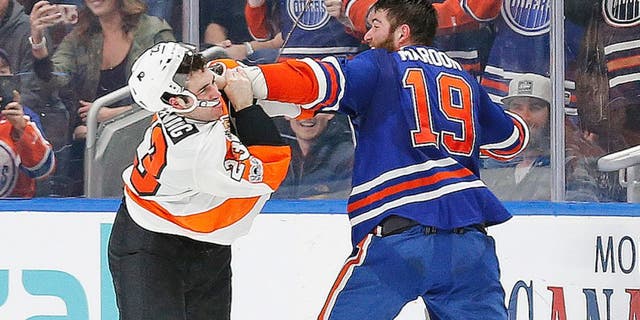 Philadelphia Flyers defenseman Brandon Manning doesn't have many friends in the Edmonton Oilers locker room, and for good reason. The Oilers future lies in superstar Connor McDavid, who broke his collarbone and missed a significant chunk of time after being put into the boards by Manning last season.
Earlier this season, McDavid and Manning stepped onto the ice and crossed paths for the first time since that incident. The two chirped at each other all night and, following the game, a steamed McDavid relayed that Manning told him he injured him on purpose last year. Manning denied doing so.
Flash forward to Thursday night in Edmonton, the Oilers and Flyers went head-to-head once again. If you thought that the beef was over, try again.
During the first period, Oilers veteran forward Milan Lucic found himself behind the Flyers' net with Manning right next to him. Lucic took one look at Manning's nameplate and decided he would give him a little love tap in the groin (video above). Manning dropped to the ice like a sack of bricks and both players were penalized on the play.
Then, halfway through the second period, another Oilers veteran, Patrick Maroon, confronted Manning and dropped the gloves with him. Maroon delivered some heavy blows before mushing Manning's head into the ice for good measure.
It's clear that Edmonton's older players had an agenda -- they wanted to send a message that it's not okay to mess with their guy. Not only is the 20-year-old McDavid their best player and the biggest key to their success, he's also the team's captain. He needs to be protected.
So, is that the end of the beef?
"Let's hope so," Manning said after the game, laughing. "I'd love that. No, Connor didn't say a word on the ice today. Even their guys, Patrick said 'good job' afterward. We would do the same thing if one our superstars got hurt. I understand it."
McDavid may not have said much verbally on Thursday, but he let his performance speak for itself. The captain recaptured the NHL's scoring lead with three points in the Oilers' 4-1 win.