Isaiah Thomas scores 33 points in Game 1 loss to Bulls a day after the tragic death of his sister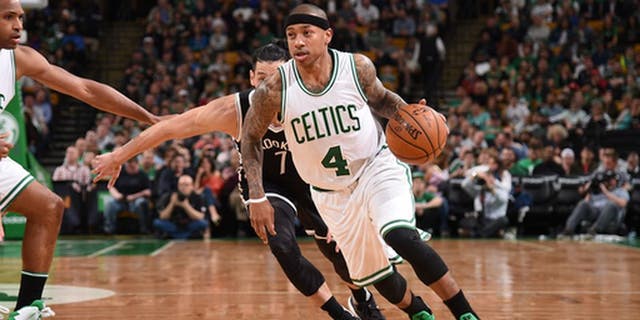 NEWYou can now listen to Fox News articles!
The Chicago Bulls came away with a 106-102 win in Boston in Game 1 of their playoff series against the East's top-seeded Celtics, but for Isaiah Thomas, basketball was only a minor distraction to the real-life tragedy he's been dealing with since Saturday.
The 22-year-old sister of Thomas died in a car accident Saturday morning, but Thomas decided to play in Sundays playoff-opener nonetheless. He started off hot with 13 in the first quarter, before finishing with 33 points on 10-of-18 shooting, to go along with five rebounds and six assists.
Thomas was visibly upset before tip-off, but once the game got going, he was able to keep his emotions in check. He had several plays that would qualify as highlights, and his presence on the floor was undoubtedly an inspiration to his teammates.
The details from a pure basketball perspective may trouble the Celtics for more than just one game. Chicago crushed Boston on the offensive glass, and out-rebounded them overall by a 53-36 margin. As good as Thomas was, Jimmy Butler was the best player on the floor, and scored 15 of his 30 points over the final 12 minutes to seal the win for the Bulls.
But this game was about more than a win or aloss for Thomas and the Celtics.