Isaiah Thomas' ridiculously clutch Game 2 showed what really matters in the playoffs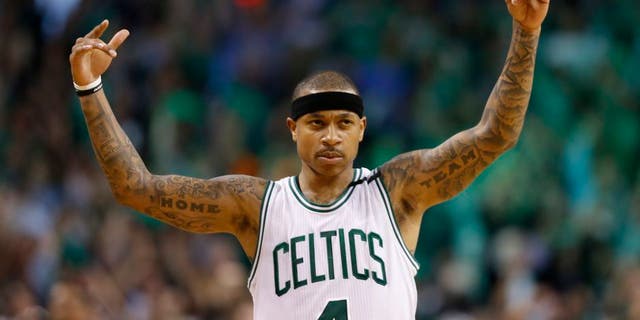 Wizards point guard John Wall was having the best game of his sterling postseason and was poised to send his team and the Celtics back to Washington tied at 1-1 in their Eastern Conference Semifinals series.
Wall was in complete control of the pace and rhythm of the Game 2 Tuesday, and with 10 minutes to play, he had 35 points as the Wizards led by seven at the Garden.
For Wall, Tuesday night had all the makings of a signature game as it entered crunch time.
Isaiah Thomas took it from there.
Thomas' final box-score number from Game 2 will be the main headline from his incredible performance one that stole the contest out from under Wall and the Wizards and put the series firmly in Boston's control and that's fine because 53 points is the most in a postseason game since 2003.
But Thomas' first three quarters were nothing to celebrate. Sure, he had 24 points, but his defensive liabilities were being exposed possession after possession by Wall he was minus-5 for the game. The Wizards absolutely looked like the better team.
But playoff games are decided in the fourth quarter, and that's when Thomas thrives.
For the first 40 minutesof any game, you need to move the ball around the court and play with pace, but when it comes down to those crunch-time minutes, the contest slows down and ball movement and tempo seem utterly unimportant.
It's in those critical moments that you need a player that can be a one-man offense. A player that doesn't need 15 screens to get an open look one that can get the ball on the wing, call for a clear out, and will end the possession in a basket.
To win in crunch time, you need to be the team that has The Man.
Tuesday, Thomas was The Man.
That shouldn't come as any surprise Thomas has been one of the NBA's best clutch players all season. His game, as brilliant and flawed as it is, is perfectly suited for moments like Tuesday's Game 2.
So yes, the 53 was impressive, but the bigger number was 29 the points he had in the fourth quarter and overtime. It was a virtuoso performance.
To be fair, Wall and the Wizards didn't go down easy, but when a back-and-forth fourth quarter brought about overtime, there shouldn't have been any question as to which team was going to leave Boston with a win it was going to be the team that had I.T.
Tuesday's loss is a bad omen for the Wizards, who are by no means done in this series, but do face an imposing uphill climb in having to win four of five.
Frankly, had it been a regular-season game, Washington probably would have won the pace would have remained in their favor until the final five-or-so minutes of the fourth quarter, and who knows what kind of lead Wall could have built up if he was able to continue running up and down the court.
That's not how it works in the postseason, though. In the playoffs, crunch time doubles (at least) and team have to show that they can execute with ruthless effectiveness in the half court.
Washington wasn't as ruthless as Thomas Tuesday, and they wasted a strong game from Wall, Marcin Gortat (who was unplayable in the first game), Markieff Morris (who was questionable to play), Otto Porter, and Jason Smith. Even Bradley Beal, who was having a miserable game through three quarters, showed life in the fourth. In short, what the Wizards were missing in their Game 1 loss showed up for Game 2.
But because Boston had The Man, they're down 2-0.
Wall's signature game will have to wait it was Thomas' turn Tuesday.