Is this the worst goalkeeper mistake of all time?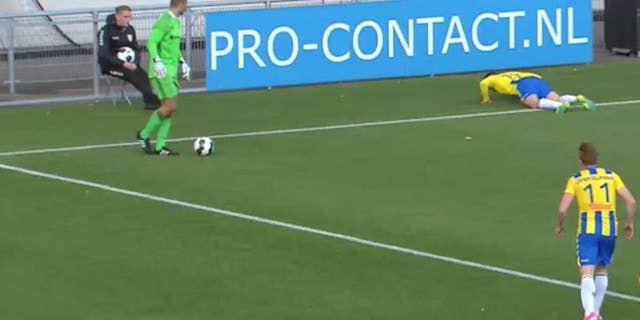 NEWYou can now listen to Fox News articles!
It's a rough life as a goalkeeper. You can be the hero for 89 minutes, but all it takes is one littlemistake to let in a goal, and all that good work is immediately forgotten.
It doesn't matter how many savesAlmere City goalkeeper Chiel Kramer made on the day. The only thing anyone's going to remember when they hear his name for the foreseeable future is this moment in the Dutch second division:
Yeesh.
Almere City were up 1-0 in the 83rd minute when Kramer came out to deny a dangerous opportunity in the box. He does well to take it off Rob van Sonsbeek's foot, crushing him in the process and then… stops.
RKC's Pieter Langedijk didn't need a second invitation, and he nicked the ball off Kramer's foot and stuck it in the back of the net for the equalizer, while Kramer's left helpless to watch. With that, a big 1-0 win turned into a 1-1 draw.
What was he thinking? Was he talking trash to the player on the ground? Was he genuinely concerned for his health? Was he time-wasting? Did he completely forget the game was going on? There are so many questions, and we don't have any of the answers.
We just know Kramer will have this one hanging over his head for the rest of his life. It's a rough existence.