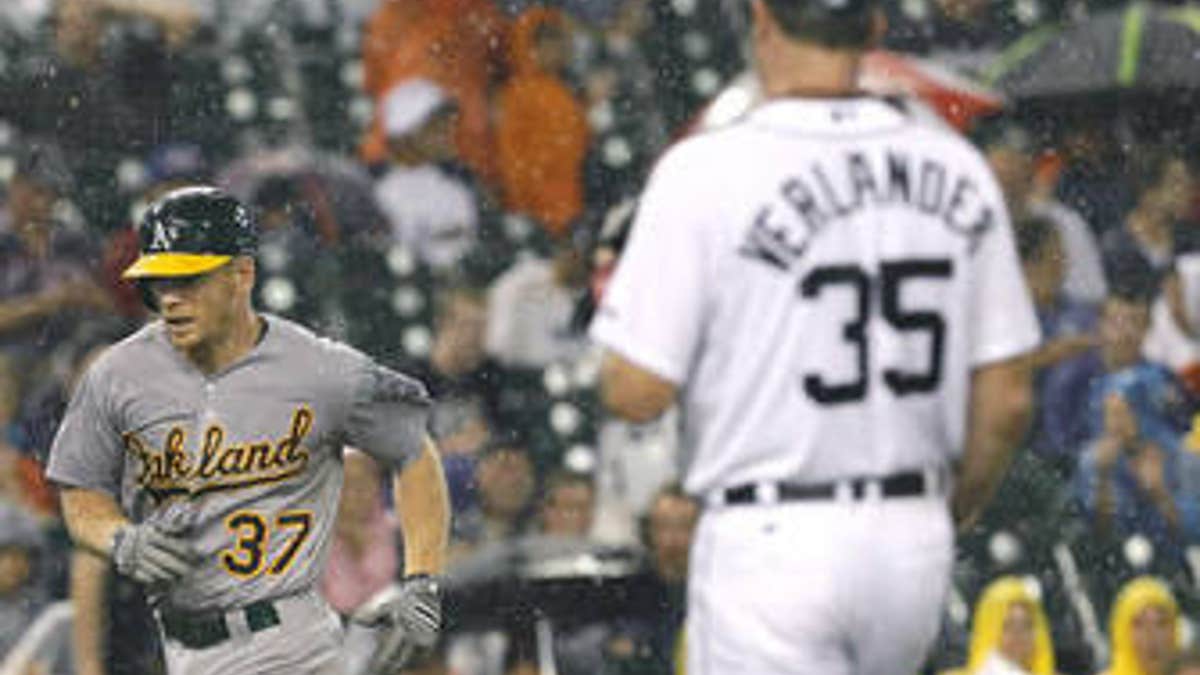 DETROIT – Justin Verlander -- author of two no-hitters, winner of a Most Valuable Player award -- is used to making history. Not this kind.
On Tuesday against the Oakland Athletics, Verlander needed 44 pitches to get through the first inning. Verlander has thrown more than 1,800 innings in the major leagues, including the postseason. Never before had he expended so many pitches in a single frame, according to STATS LLC.
Verlander allowed two runs in the inning and three more before the end of a 6-3 loss. He had a bad night, which was not a problem by itself. The issue is that bad nights for Verlander no longer come as a surprise.
Verlander, 30, was the best pitcher in baseball over the 2011 and 2012 seasons. Now he has the fourth-best ERA in the Detroit Tigers' rotation, and, yes, it is time to worry.
The reason is this: Verlander's biggest problem relates to something beyond his immediate control -- that is, all the pitches he threw before this year.
Including the postseason, Verlander has thrown the most innings of any pitcher in baseball from the start of 2010 until today. Detroit manager Jim Leyland insists that Verlander isn't injured. I believe him. But as someone who has witnessed many of Verlander's starts since 2006, I also see that his pitches lack the bite they once had. That explains the 11 consecutive two-strike pitches that didn't result in outs during Tuesday's marathon first inning.
Verlander's fastball velocity is fine. He hit 96 mph in the first inning. His location and movement, though, aren't the same. They probably aren't gone for good, but the Tigers needed them back -- yesterday.
"Right now," one scout observed, "his stuff isn't what it once was."
Let me make something clear: This is no one's fault. The Tigers didn't need to control Verlander's innings or pitch counts any more than they did. In the course of competition, as the team chased a realistic World Series dream, Verlander's right arm was stressed extensively. (Stephen Strasburg should have been so lucky with the Washington Nationals last year.) For Verlander and the Tigers, the cause was worthy. Now the hangover is fierce.
But the Tigers must take the requisite aspirin and report for work, particularly after the Giants swept them in the Series. The question is how Verlander can best perform with what he has now, and there is a slight difference of opinion as to the current severity of the matter.
When Leyland was asked after the defeat if he is concerned about Verlander, he replied without hesitation: "Sure." When the same question was posed to Verlander, the answer was different. The longtime ace said no.
"I've been through this before," he said. "I'm a better pitcher now."
By that, Verlander was referring to 2008 -- still the worst season of his career. After that year, he adjusted his workout routines and sharpened his game-day focus. The following season, he lowered his ERA by more than one full run, won 19 games, and led the majors with 240 innings. He has been the pre-eminent pitcher in the American League ever since.
So, yes, Verlander is right: Many of his finest moments have followed the year in which his performance cratered. He has resurrected himself before, and he continues to profess the conviction that he will do so again. But I see two pitfalls here.
Verlander raised the first on his own: "(In 2008), it took the offseason. I don't have that luxury this year. I know it's going to click. In '08, my confidence never wavered. It's not now. . . . I don't know if a pitcher's ever worked as hard as I have this year, in throwing. . . . At times, I've felt like it's clicked. At times, it hasn't been there. It's continuing to be a work in progress. My deadline is the playoffs. Hopefully, we get the chance to be there."
Translation: Verlander is trying to remake himself -- mechanically or mentally, it's not entirely clear -- on a scale more easily accomplished during the offseason.
But the larger problem relates to something Verlander said himself: I don't know if a pitcher's ever worked as hard as I have this year, in throwing.
Verlander earns a $20 million annual salary, so it's expected that he will work diligently to prepare for his performances every fifth day. Then again, it's very possible that working harder -- and throwing more -- isn't the answer for what ails him. Verlander is a maniacal worker, baseball's answer to the football coaches who watch video until 2 a.m. Even when everything appears right, he obsesses about the parts that are wrong. It has made him great.
In all likelihood, it has also made him tired.
Of course, Verlander thinks my theory is bogus.
"I don't feel fatigued," he said. "It's not like, at my age, I'm going to start dropping velocity or anything. That's why I think it's more of a mechanical thing than anything. That's why I've been working so hard to try to get it to click."
And so, apparently, he will continue that work. His stated deadline -- the postseason -- is barely more than one month away. Already, there's debate in Michigan about how Leyland should align his postseason rotation. Max Scherzer has been the Tigers' best pitcher this year. He deserves Game 1. From there, it should be a matter of home/road splits. Anibal Sanchez has been superb at Comerica Park. If the Tigers have home-field advantage in the AL Division Series, Sanchez should pitch Game 2.
That would push Verlander to Game 3 -- an entirely warranted blow to his ego. Perhaps it would tweak Verlander a little and bring back the "arrogance" Leyland has said he wishes to see. The extra rest might do some good, too.
For the record, Verlander is absolutely right when he speaks about the playoffs as the focus of his in-season tinkering. He understands what is at stake: Pitch heroically in October, and no one will care about his regular-season ERA. For all his regular-season dominance, many fans across the country remember that he turned in clunkers on national television in the All-Star Game and World Series last year. He'll have his chance to change that narrative. Until then, the dress rehearsals are ours to scrutinize.