Is Kings' owner following Clips' lead, going for post-Cup money grab?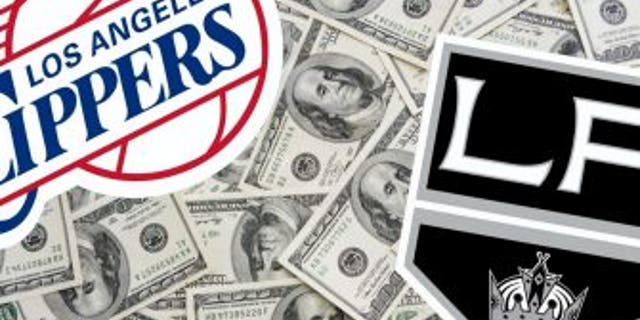 When Steve Ballmer agreed to purchase the Los Angeles Clippers for $2 billion, it stood to reason that other owners would take notice and perhaps see what they could get for their club.
After all, the $2 billion was for a basketball team that has never won more than one playoff series in one season. With perhaps the worst track record in all of professional American sports. In the midst of an ownership scandal which saw advertisers jump ship as if the Clippers were the Titanic. Which isn't even the No. 1 team in its own sport in its own city.
It appears we may have our first potential seller, and he owns a team that plays in the same city — same building — as the Clippers, but which actually wins.
Anybody want to buy the LA Kings?
The New York Post on Thursday reported that Kings owner Philip Anschutz and his AEG group are considering putting the Kings up for sale at the conclusion of the Stanley Cup Final.
"I can assure you there will be a de-coupling of [AEG's] content from real estate," the Post quoted one "well-placed banker" as saying.
However, an AEG spokesperson told the Post that AEG has no intention of selling any of its sports-related properties, Kings included.
"AEG has no interest in auctioning any of its sports teams currently or at any time in the near future," Ted Fikre, AEG's chief legal officer, told The Post.
However, putting the Kings up for sale is nothing new for AEG. In fact, in 2012, Anschutz, 74, put all of AEG up for sale. The deal never happened, though, as Anschutz was unable to find a single buyer willing to come close to his $8 billion asking price.
AEG owns numerous sports and entertainment properties, including the Kings, LA Galaxy and Houston Dynamo of MLS, Staples Center and LA Live in downtown Los Angeles, and a lucrative concert-promotion business.
With the only two team sales to ever hit the $2 billion mark both in Los Angeles (the Dodgers sold in 2012 for a little more than what the Clippers went for in the forced sale as a result of the Donald Sterling scandal), it would make sense that the city's most successful professional team in recent seasons would test the market, even if it is hockey.
After all, Forbes valued the Clippers at $575 million just months before Ballmer's purchase; the Kings, who won their first Stanley Cup just two years ago, were valued at $450 million last November (but are three wins away from their second Stanley Cup).
Indeed, another source told the Post, the Clippers sale is what piqued AEG's interest.
"[AEG is] trying to ride the Clippers coattails," the source said.
For now, it appears the Kings will have to remain focused on trying to win another Stanley Cup.