Is Joe Gibbs Racing the favorite to win Daytona 500?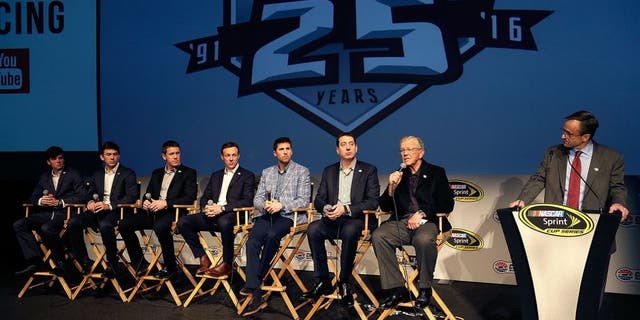 Joe Gibbs Racing heads into the Daytona 500 with fast cars, momentum and four drivers with a single mission -- to win NASCAR's biggest race.
Two-time Daytona 500 winner Matt Kenseth will start Sunday's race in his JGR Toyota on the outside of Row 1, next to pole-sitter Chase Elliott. Kenseth's teammate Denny Hamlin is coming off his third Sprint Unlimited victory and the third in a row for JGR. Carl Edwards and Kyle Busch have been fast all week, too, in their Toyotas.
All of which bodes well for one of the four JGR drivers to win the Daytona 500 on Sunday (1 p.m. ET, FOX).
And, frankly, there's a certain amount of pressure to do so. JGR's only Daytona 500 victory came way back in 1993, the team's second year, and Toyota has never won NASCAR's biggest race. On top of that, Kenseth is the only active JGR driver to win it.
With all the elements in place this year, they are definitely one of the favorites.
"This is probably one of the best opportunities I've had to win the 500," said Edwards.
"Our team is one of the strongest teams," said Busch, who last year made a remarkable run to his first championship. "I feel like we've got the four best drivers, the four best crew chiefs. And we obviously have a really good manufacturer behind us in Toyota."
Hamlin, who has finished as high as second in the Daytona 500, has a strong desire to seal the deal this year. "This is going to be my 11th try at it," Hamlin said. "And you hate to have all these great resume parts about all these wins you've had, but no Coke 600, no Brickyard 400, no Daytona 500 (victories).
"So I think I think it's a gaping hole in my personal resume, not having some of those big victories," said Hamlin.
And he said team owner Joe Gibbs wants it badly. "The 500 is one that's really, really special to him because he hasn't won it in 23 years," said Hamlin. "That's a big number for such a good organization."
When Kenseth was asked about the 23-year gap since JGR's only Daytona 500 victory, he didn't miss a beat. "I'm well aware," he said. "He (Gibbs) reminds us a lot of that. Well aware. ... This one is certainly left on his list that he wants to get. It's been so many years. So, yeah, I'd love to be able to win that and bring one of those trophies back."
For his part, Busch said winning the Daytona 500 is something he wants to do, but not something that will define him. "To me, I'd love to have one, obviously," Busch said of a Daytona 500 victory. "There's a lot of greats that have been in our sport over the years who either, A. Don't have a championship or B. Don't have a Daytona 500 victory or may not have either. And they're still going to be Hall of Fame drivers."
"It would be a really special win for a number of reasons," said Edwards. "But for me, being a part of a team like this is a once-in-a-lifetime opportunity and I want to make the most of it."