Is Floyd Mayweather the 'best ever'? George Foreman and a Muhammad Ali intimate weigh in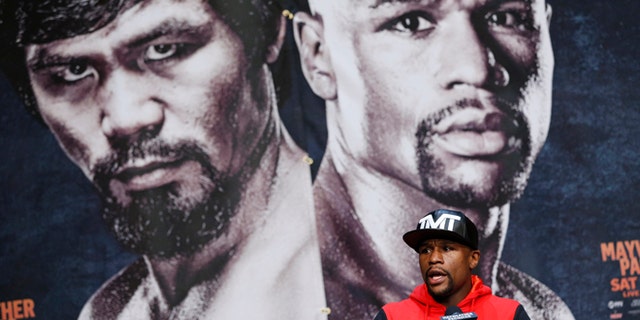 NEWYou can now listen to Fox News articles!
The fight to save boxing.
Boxing's Super Bowl.
The Clash for All the Cash.
On Saturday, May 2nd, we will witness the biggest bout of all time ... or maybe not.
Possibly the Floyd Mayweather vs. Manny Pacquiao showdown is something in the middle. Maybe Mayweather is not "The Best Ever," as he proclaimed himself to ESPN recently. Maybe Manny Pacquiao is not the savior of his nation, and instead is a decent but yes, flawed man, who is simply trying to do the best he can, even if he does hold a congressional seat in the Philippines.
Super Fight that will save boxing or destined-to-be-disappointing clash between two men a bit past their prime?
For sure, Saturday's is a face-off which has the sole aim of amassing a fortune in revenue, that will further enrich a small set of already rich and powerful, but is leaving some hardcore fight faithful in the rear-view mirror, with in-arena ticket costs being out of the reach of all but the one percenters.
Last week Mayweather raised eyebrows took on the Ali question directly. "Ali is a legend," he told reporters, "but I feel like I have given this sport my whole life and have done as much in boxing as Ali did."
But what do the people that Ali knew best think about that claim?
Gene Kilroy was part of the Ali entourage, and, as his longtime business manager, was side by side with "The Greatest" on the way up as well as on the downward slide.
So does Kilroy think the Mayweather-Pacquiao clash will live up to its hype?
"It can't," he told me. "It's impossible."
Kilroy pointed out that, never mind not being able to score a hotel room for Mayweather-Pacquiao, when Ali fought in Sin City you couldn't even make a phone call to a hotel room in Vegas because all the lines were clogged.
He said he hasn't seen anyone as dedicated as Floyd when it comes to training, but, he noted, Pac-Man level of determination might just take him to the winner's circle.
Kilroy is no hater, though, even if Floyd did ruffle feathers by putting himself ahead of Ali. "I hope the fight is a great as the hype," he told Fox News Latino.
Kilroy loves Ali like a son and comes to the defense of the Louisville Lip when he hears Mayweather's impudent assertion.
"How is Floyd better? Because he makes more money? Mother Theresa took a vow of poverty—was Gandhi better because he made do with less? People will judge you ultimately on how you loved. Losing would be good for Floyd, for humility. When Ali beat George Foreman, George got humility."
Big George Foreman kindly weighed in with some thoughts on the big bout, and added some context for young 'uns who look at Floyd, and aren't familiar with a time when the baddest man on the planet was also maybe its top-most messenger for the "love your brother" mindset.
"I think for those who really are pure, the laws of boxing, it's going to be a fantastic, amazing boxing match," said Foreman, who snagged the heavyweight title both as a 20-something and a 40-something.
"One that is going to live up to all the hype. It really will."
And c'mon, Floyd is better than Ali?
"Ali, George Foreman, we had our day," said the politically adept big man. "I mean, look, we can't do anything to help the future of boxing matches. Mayweather can. We've got to cheer for him. If that's what he needs to do is talk, great."
The fight writers have crafted a "good vs. evil" narrative for the fight, with Mayweather, who served time for assaulting an ex in front of their kids in 2012, earning the black hat.
"There's never been a great fight without the writers taking on and finding an identity for it," said Foreman. "That's probably what has happened to boxing. Writers are not writing about us big boys anymore, and I tell you, however you feel, take something, find it, and use it because American needs something to read about."
Mayweather wears the villain's hat quite capably, courts it, really. He frequently berating reporters – one he berated a reporter, namely me, for asking if he thought that God picks sides in prizefights.
He said it was a terrible question, then answered it thoughtfully.
"I actually believe God loves us all," Mayweather said. "Every writer, every fighter, every athlete that goes out there and competes. God loves us all. Once again, I'm a fighter. What I do, I'm a professional prizefighter. I believe in God and I love God. I don't think God takes sides."
Sometimes lost in the media character studies is the in-the-ring angle; Foreman kept his focus on that topic.
"Pacquiao is really a pop-shot artist," he said. "He jabs you, moves to the side, sticks his head in, throws a punch from different angles. It's hard to really get a counterpunch in, or it's not that easy on the guys he's been facing. Mayweather is by far a defense of genius, but believe me, to win these rounds, you're going to have to become an offensive technician."
And how does Foreman see this actually playing out, after all the hype boils down to the real-deal faceoff?
"I picked Pacquiao to win six rounds, and I think the seventh round will be even," he said. "Mayweather comes on, but because he starts slow, it's going to be too late. If you're looking for some good judging, this fight will be won by one round by Pacquiao on points."
"It will be a great fight, it will come down to the last round, and the one who wants it most," Kilroy said. "Will Ali watch it? I'm sure he will. And I think he will be thinking what he always did before those big fights: 'I hope no one gets hurt, and they make money.'"
One of those two is a certainty.