Is Erik Jones the driver to beat in inaugural XFINITY Chase?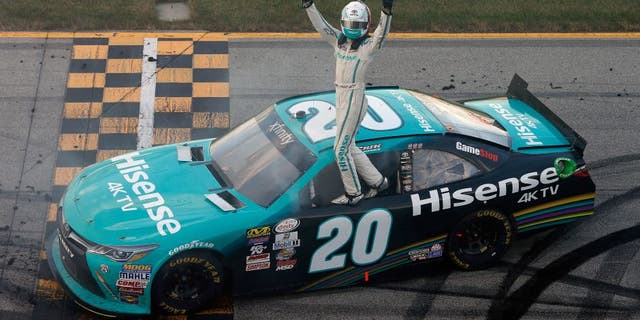 Joe Gibbs Racing drivers Erik Jones and Daniel Suarez have a ton of momentum heading into the inaugural NASCAR XFINITY Series Chase for the championship.
Jones is fresh off a win at Chicagoland Speedway, while Suarez has top-10 finishes in the last four races.
As the inaugural XFINITY Chase kicks off Saturday night at Kentucky Speedway, Jones is the top seeded driver with four wins in the regular season. He credits the new points format for allowing him to take more risks in order to win.
"I've put myself in some situations this year that I probably wouldn't have if we were in a traditional points format," Jones said. "But, that's just taking advantage of the hand you're dealt. If you get a win and you're locked in, go for more wins. There's no point in just trying to grab a top five every week."
I look at it as I've got this open field to play in and I can grab as many wins as I can, and let's go out and do it," he added. "That's what we did."
JR Motorsports driver Elliott Sadler ended the regular season with the points lead, but thanks to the new XFINITY Chase format, that quickly evaporated. Now Sadler is the No. 2 seed, trailing Jones by six points.
And that is something Jones is extremely thankful for.
"I'm definitely happy the Chase closes it back up," Jones said. "I don't think we would have had a shot to win a championship racing like that. If it would have been a straight-up points format, I think we would have been 100 points out. It's nice to close everything up, reset it and go for it."
Both Jones and Suarez are already off to a fast start at Kentucky, as the duo led the first practice session, while Jones was also fastest in Happy Hour for Saturday night's VisitMyrtleBeach.com 300.
Jones knows he has a car strong enough to just play it conservatively the next three weeks, but that's not the goal for he and the No. 20 JGR Toyota out of the gate.
"We could easier point our way into the next round. That's not what we want to do," said Jones. "We want to go to Kentucky and get a win, or Dover and get a win. But, at the end of the day, there's times where you can and can't take risks."
So is Jones the driver to beat for the XFINITY title?
Suarez believes that is the case.
"Yes, definitely. I think Erik is one of the drivers to beat every single weekend," said Suarez. "It's going to be interesting to see how everything plays out the next few weeks."