Is 'Boys, have at it' alive? NASCAR's new top cop weighs in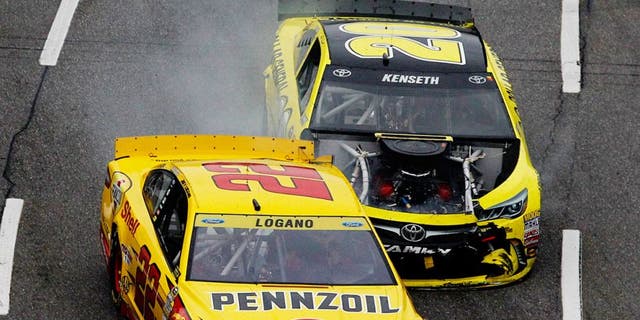 Six years ago this week, then-NASCAR vice president of competition Robin Pemberton boldly ushered in the "Boys, have at it" era in which NASCAR promised to allow drivers more room to self-police and show their true personalities without risk of penalty.
But when the sanctioning body hit 2003 Sprint Cup champion Matt Kenseth with a two-race suspension late last year for deliberately wrecking Joey Logano at Martinsville Speedway, some observers questioned whether the age of "Boys, have at it" had come to an end.
So who better to ask than Scott Miller, Pemberton's newly hired successor as senior VP of competition, and a garage area veteran?
"We are always going to encourage the competitors to go race, race hard," Miller, himself a former racer and crew chief, told FOXSports.com during the Charlotte Motor Speedway Media Tour presented by Technocom. "In our sport there's occasional contact. It's just one of those things where the line was drawn this past year, and everybody has an opinion about it, but there just are certain things that we can't tolerate in the, 'Boys, have at it,' mentality, so to speak."
Miller, who most recently worked as executive vice president of competition at Michael Waltrip Racing, declined to offer a definition of what exactly "Boys, have at it" means in 2016, however.
"I'm not going there," he said on the Media Tour.
As NASCAR's new top cop of sorts, Miller is now responsible for managing all competition efforts related to technology, inspection, rule development and officiating across the sport's wide portfolio of racing.
As for his how his management style might differ from his well-known predecessor's, Miller demurred.
"I really don't know about the style, honestly," said Miller, whose hiring was announced Dec. 2. "I'm learning the job and as I have accepted the challenge of the job I didn't know some of the things would be coming at me that have been coming at me from the business aspect, because this position is obviously focused on competition, but there's business aspects of it, as well, and I'm learning all those, so to really assess a difference in style from my predecessor would be difficult for me right now."
Miller was willing to offer up his personal definition of a "good race."
"Everybody really has a different definition of that," he said. "It's really just competition throughout the event, guys being able to pass each other. Ideally it's for the lead the but also a big factor in a good race, to me, is if the fifth-place guy can pass the fourth-place guy and the 11th-place guy can pass the 10th-place guy. There has to be some action, there has to be the ability to pass, and not have it turn into a processional. That's kind of, in general, my idea of a good race."