Is Alex Rodriguez Ready To Redeem Himself?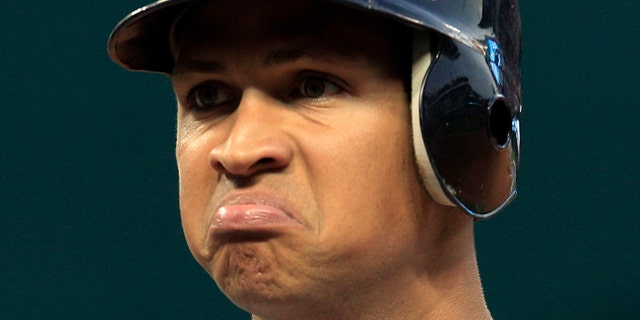 A-Rod might be mentally prepared to defend his All-Star name, but is he physically able?
Coming off his second hip surgery in four years, the 38-year-old third baseman finally made his season debut Monday night for the New York Yankees — hours after he was suspended through 2014 by Major League Baseball as part of the Biogenesis drug investigation.
The embattled slugger promised to appeal his penalty, which probably keeps him in pinstripes for the rest of this year. After that, who knows if he'll ever take the field again?
So he's not banned yet, but maybe he's all but finished. At least as A-Rod the All-Star.
"I just hope that there's a happy ending there somewhere," he said.
Time will tell.
Time, and a steady dose of big league pitching. Time, and the daily grind of a major league schedule. Time, and the way his broken-down body rebounds after sliding into second or diving for a grounder.
Four months on the sidelines is a long stretch for any player, especially one so late in his career. Not to mention, Rodriguez wasn't exactly tearing it up before his latest injury.
He went 3 for 25 (.120) without an RBI in the 2012 playoffs and wound up getting benched. Against right-handers, he was 0 for 18 with 12 strikeouts.
"The last time I was on the field it wasn't pretty," Rodriguez said. "I was horrific."
The three-time MVP blooped a single to left field in his first at-bat of the season Monday night, but wasn't much help otherwise. Booed loudly all night in Chicago, he went 1 for 4 with two flyouts and took a called third strike his final time up.
He made all his plays in the field, but acknowledged feeling rusty. His bat looked a little slow, though he said he felt pretty good up there.
Meanwhile, the last-place White Sox snapped a 10-game losing streak with an 8-1 victory over New York.
"It's been crazy, but from this point on I'm going to do my very best to focus on baseball," said Rodriguez, who strained his quadriceps during a minor league rehab stint, delaying his return for two weeks. "It's good to get the first one behind me."
Fading fast in a crowded playoff chase, the aging Yankees are desperate for power. Their third basemen have been among the most inept in the majors all season. They need a genuine boost right now — not a question mark in the middle of the lineup.
On the same day Rodriguez was suspended, shortstop Derek Jeter went back on the disabled list with a strained right calf, the latest leg injury in his lost season. Old reliable Andy Pettitte got rocked and couldn't make it through the third inning.
It won't be easy for A-Rod, either.
Boos and "Steroids!" chants are sure to follow wherever he goes, even at home in the Bronx. And it will take an awful lot of production to justify his $28 million salary this season.
"It's not the first time he's gotten a bad reaction. It's not surprising," Jeter said after Monday's game. "I'm sure he's happy to be out there, finally."
Just last Friday, Rodriguez hinted that the Yankees did not want him back and were trying to avoid paying him the $94.5 million they still owe him through 2017. The team responded Monday with a statement:
"We are compelled to address certain reckless and false allegations concerning the Yankees' role in this matter," the club said. "The New York Yankees in no way instituted and/or assisted MLB in the direction of this investigation; or used the investigation as an attempt to avoid its responsibilities under a player contract; or did its medical staff fail to provide the appropriate standard of care to Alex Rodriguez."
During a news conference at U.S. Cellular Field, Rodriguez said general manager Brian Cashman had welcomed him back. Earlier this season, Cashman cursed while saying Rodriguez should "shut ... up."
The awkward and ongoing saga has become a New York soap opera, daily fodder for the city tabloids.
"If I'm productive, I think they want me back," Rodriguez said Monday, drawing laughs.
He needs 13 home runs to tie Willie Mays (660) for fourth place on the career list, a milestone that would earn Rodriguez a $6 million bonus. He needs 98 hits to reach 3,000. Even so, election to the Hall of Fame might be a long shot.
Not so long ago, those achievements seemed such a certainty.
Not anymore.
Now, he's just determined to go down swinging. And the next two months could be his last hurrah.
"I thought he looked OK. I thought his swings looked pretty good," Yankees manager Joe Girardi said Monday night. "That's about all I can say."
Before the game, Rodriguez said he's fighting for his career.
After the punishment came down, he did not deny using performance-enhancing drugs. He said he will talk about whether he used PEDs at another time when he is more free to speak.
He did, however, dig in for a battle, saying no one else will defend him unless he stands up for himself. Then, he took to the field, batting fourth against the White Sox.
"There's nothing about it that's been easy," Rodriguez said. "All of it has been challenging. I'm sure there's been mistakes made along the way. We're here now. I'm a human being. I've had two hip surgeries. I've had two knee surgeries. I'm fighting for my life. I have to defend myself. If I don't defend myself, no one else will. There's a process. I'm happy with the process. In due time, hopefully whatever happens, happens."
Rodriguez was one of 13 players disciplined Monday. The others accepted 50-game suspensions, including 2013 All-Stars Nelson Cruz, Jhonny Peralta and Everth Cabrera.
A-Rod, however, got 211 games, due to start Thursday. He said he will appeal, meaning it's likely he'll be able to play the rest of this season while his case winds through arbitration. A ruling by arbitrator Fredric Horowitz isn't expected until November at the earliest.
If the entire suspension is upheld, Rodriguez would lose $30 million to $33 million in salary.
"We're just getting started in this process," Rodriguez said.
His career, however, could be coming to an end.
Based on reporting by the Associated Press.
Follow us on twitter.com/foxnewslatino
Like us at facebook.com/foxnewslatino