Iowa State freshman Okoro carries on despite the death of his brother and father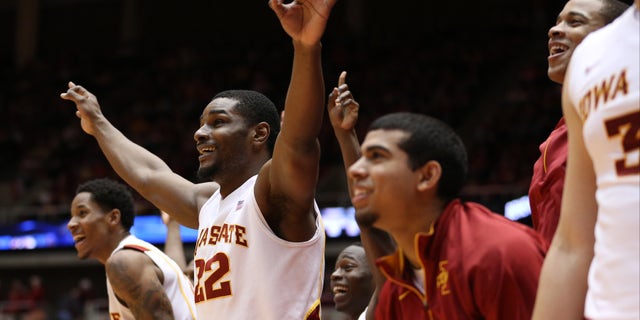 AMES, Iowa – Nkereuwem Okoro rose and let the ball fly from his fingertips, just like he had countless times while playing with his brother Idiongo in the Bronx.
Okoro's teammates leapt with joy when his shot went in, and the Iowa State fans who had waited out a blowout victory reacted as if Okoro had won the game at the buzzer.
It was a meaningless 3-pointer, yet it meant everything to Okoro.
It was the first career 3 for the 19-year-old Iowa State freshman guard who goes by Kerwin, and it gave him a brief respite from a pair of family tragedies even as it capped an 87-53 victory over TCU on Saturday.
It was the first action since December for Okoro, who had just returned from Idiongo's funeral in New York. His death at 28 from colon cancer came two months after their 72-year-old father, Stanislaus Okoro, died of a stroke, Okoro said.
"It was more than a shot, to be honest with you. Inside I felt like cheesing, but I just kept my game face on," Okoro said. "It really meant a lot, getting a standing ovation and seeing my teammates, how excited they were for me. ... I know this is more than a basketball program. It's really like a family."
Family has taken on a new meaning for Okoro.
His father began shuttling between New York and his native Nigeria to help with family matters in Africa when Okoro was 8. When his relationship with his father became distant, Idiongo stepped into the void.
Idiongo was a former high school star whose dreams of playing major college basketball were shattered when he tore his ACL during his senior year. So he pushed his younger brother into basketball. Thanks in large part to his big brother's tutelage, Okoro began to blossom at prep powerhouse St. Raymond's High.
A 6-foot-5 shooting guard, Okoro averaged 12.5 points and 6.1 rebounds a game as a junior and emerged as a legitimate Division I prospect. He entertained offers from Seton Hall, Pittsburgh, Arizona and others before choosing Iowa State.
That's when his brother got sick, spending the next two years in and out of the hospital. What made it even tougher for Okoro was that Idiongo was sometimes well enough to play ball with him before becoming ill again.
Idiongo was even in remission until about six months ago — just when Okoro was set to leave for Iowa State, some 1,200 miles away.
"He never hung his head about it, so I didn't. He was being a role model at the same time, showing his strength in the process," Okoro said.
Still, his brother's illness and the death of his father in November overshadowed what should have been the best year of Okoro's life.
His teammates have done their best to console him. But even they admit that it's been a challenge to understand what he has been dealing with.
The Cyclones showed their solidarity by wearing black socks for their game against Kansas State on Feb. 9, the date of Idiongo's funeral.
"Losing a parent or a sibling is not something that many of us have gone through. It's kind of hard to relate to him in that sense. So the most important thing is just being there for him, trying to keep his mind off of it the best we can," senior Chris Babb said.
Okoro's game has gotten understandably rusty. He's only been able to play in six games this season.
Iowa State coach Fred Hoiberg said Monday that Okoro "has a chance" to be an impact players for the Cyclones someday, noting that his shot and his strength have improved since arriving in Ames last summer.
Of course, Hoiberg is much more concerned with Okoro's well-being than his jump shot.
"Obviously the personal things that have gone on in Kerwin's life take way more precedence than what happens on a basketball court," Hoiberg said. "You just try to show him as much support and love as you possibly can."
The final month of the season should be an opportunity for Okoro to heal as he tries to get on with his life.
"One of the last things my brother told me before he passed was, 'God forbid anything happen to me. I don't want you being weak,'" Okoro said. "A lot of people think I'm depressed, that I'm holding my head low. Obviously it's not an easy time for me. My brother was my best friend. But I'm just following what he told me. Stay strong. Don't be weak. Life goes on."