Iowa State expecting big things from Marshall transfer DeAndre Kane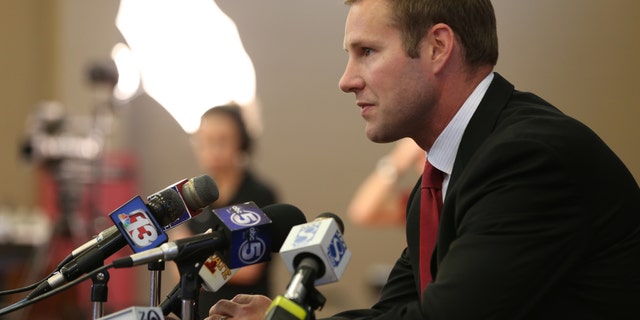 AMES, Iowa – Few coaches have embraced senior transfers like Iowa State's Fred Hoiberg.
He might have one of his best ones yet in former Marshall point guard DeAndre Kane.
The Cyclones will fill one of their guard positions with yet another "one and done" guard in Kane, who averaged 15.1 points and seven assists for Marshall last season and earned second-team All-Conference USA honors.
Iowa State, picked fourth in the Big 12 preseason poll, opens on Nov. 10 against UNC-Wilmington.
"He'll play with the ball in his hands a lot this year," Hoiberg said. "He's going to have the freedom to bring the ball up the floor."
Iowa State's hopes for a third straight NCAA tournament bid rest largely on Kane's ability to lead a revamped roster as both a point and shooting guard.
But Kane's resume suggests he'll fit in nicely with the Cyclones.
Kane, who grew up in Pittsburgh, was the Conference USA freshman of the year in 2010-11 after redshirting his first season at Marshall.
He was asked to be a scorer as a sophomore and averaged 16.5 points — including a conference tournament record 40 points in a triple-overtime win over Tulsa.
Last season the 6-foot-4 Kane doubled his assists total, tying for 11th nationally. He also joined Chaz Williams of UMass as the only players to average 15 points, four rebounds and seven assists a game.
Kane's versatility will be crucial for the Cyclones, who lost Korie Lucious, Chris Babb and Tyrus McGee from what had been a stacked backcourt.
Lucious, Babb and McGee combined for 32.3 points a game in 2013, when Iowa State went 23-12 and advanced to the third round of the NCAA tournament.
"I'm a little reluctant to call guys your typical 1-5 positions. I like basketball players, versatile players, and DeAndre fits into that category," Hoiberg said.
"You can play him at the point. You can post him up against smaller players. If he's playing against a (small forward), you can put him on the perimeter and isolate him. There's just so many ways we can use a player like that."
Kane won't be afforded much of an adjustment period.
Even though he just arrived in Ames, Kane is about the only certainty in Iowa State's backcourt.
The expectation is for incoming freshman Matt Thomas to play significant minutes at shooting guard ahead of redshirt freshman Sherron Dorsey-Walker. The Cyclones also brought in junior college transfer K.J. Bluford, who at first glance appears in line to fill the role McGee had as a scorer off the bench.
Freshman Monte Morris also has a sterling high school resume, winning Michigan's Mr. Basketball award as a senior, and he'll get a chance to convince Hoiberg that he won't need to bring in another transfer point guard to eventually replace Kane.
Morris and sophomore Naz Long will compete for the chance to spell Kane, who was attracted to Iowa State in large part because the Cyclones averaged nearly 80 points a game last season.
"I like their style of play. I like coach (Hoiberg's) approach when I came on my visit," Kane said. "I just wanted to come somewhere where I could play. They've got an up-and-down style of play."
Though there's a ton of pressure on Kane to succeed immediately, Hoiberg's record with transfer point guards has been spectacular so far.
Diante Garrett was an average Big 12 point guard when Hoiberg arrived in 2010 — and he's now starting his second season in the NBA. Chris Allen helped Iowa State snap a seven-year NCAA tournament drought in his only season in Ames, and Lucious was crucial for the Cyclones a year ago.
Hoiberg is confident that Kane will be the next impact transfer for Iowa State.
"In just talking to people in that league and a lot of the coaches he played against, just how difficult he was to prepare for because he can do so many things (kept coming up)," Hoiberg said. "We just felt that the talent he had, or the experience that he had, would make him a great addition."
___
Follow Luke Meredith on Twitter: www.twitter.com/LukeMeredithAP