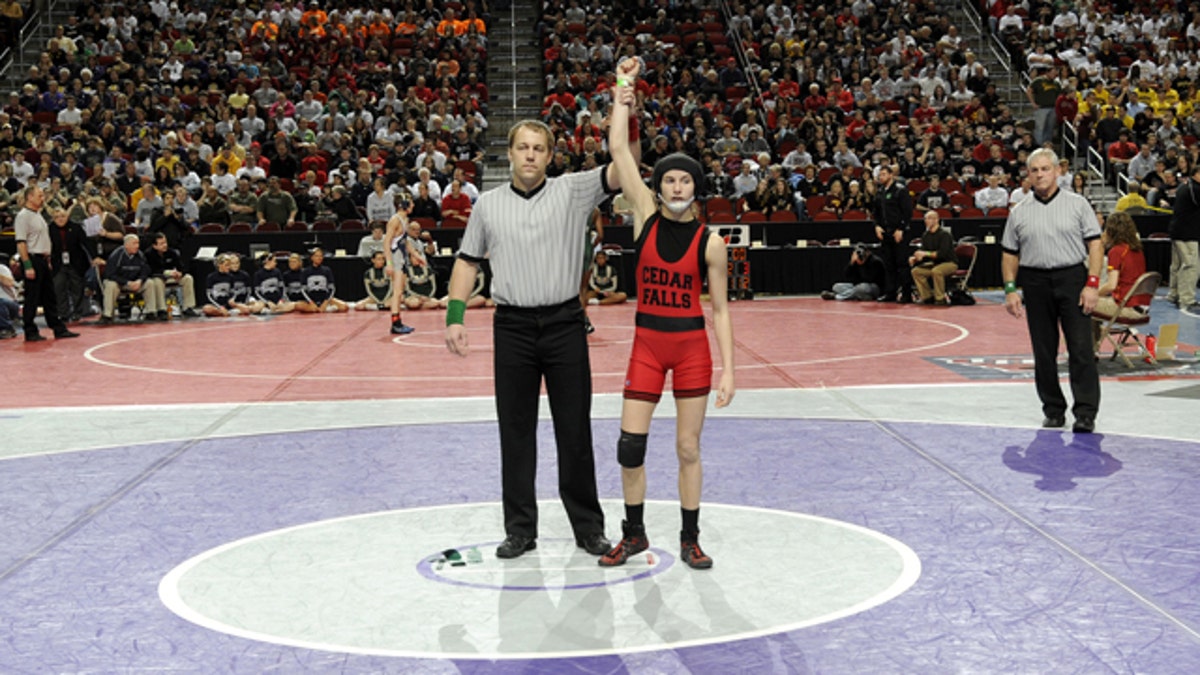 DES MOINES, Iowa -- A standout Iowa high school wrestler refused to compete against a girl at the state tournament on Thursday, relinquishing any chance of becoming a champion because he says wrestling a girl would conflict with his religious beliefs.
Joel Northrup, a home-schooled sophomore who was 35-4 wrestling for Linn-Mar High School this season, praised his first-round opponent, Cedar Falls freshman Cassy Herkelman, and Ottumwa sophomore Megan Black, who became the first two girls to make the state wrestling tournament in its 85-year history.
But in a brief statement issued through his school, Northrup said he defaulted on his match with Herkelman because he doesn't think boys and girls should compete in the sport.
"I have a tremendous amount of respect for Cassy and Megan and their accomplishments.
However, wrestling is a combat sport and it can get violent at times," said Northrup. "As a matter of conscience and my faith I do not believe that it is appropriate for a boy to engage a girl in this manner. It is unfortunate that I have been placed in a situation not seen in most other high school sports in Iowa."
There were several thousand fans at Wells Fargo Arena on Thursday, but many were watching other matches when the referee raised Herkelman's hand to signal her win. There was a smattering of cheers and boos from the crowd before Herkelman was whisked into the bowels of the arena.
Tournament organizers declined to make Herkelman available for questions. She entered the tournament with a 20-13 record and will wrestle Friday in the quarterfinals of the 112-pound (50.8-kilogram) weight class.
Her father, Bill Herkelman, told The Associated Press via text message that he understands and respects Northrup's decision.
"It's nice to get the first win and have her be on the way to the medal round," Bill Herkelman wrote. "I sincerely respect the decision of the Northrup family especially since it was made on the biggest stage in wrestling. I have heard nothing but good things about the Northrup family and hope Joel does very well the remainder of the tourney."
According to the National Federation of State High School Associations, more than 6,000 girls competed in wrestling in 2009-10 -- compared with nearly 275,000 boys. Though most states require girls to wrestle boys, California, Hawaii, Texas, Washington and Tennessee sponsor girls-only high school wrestling tournaments.