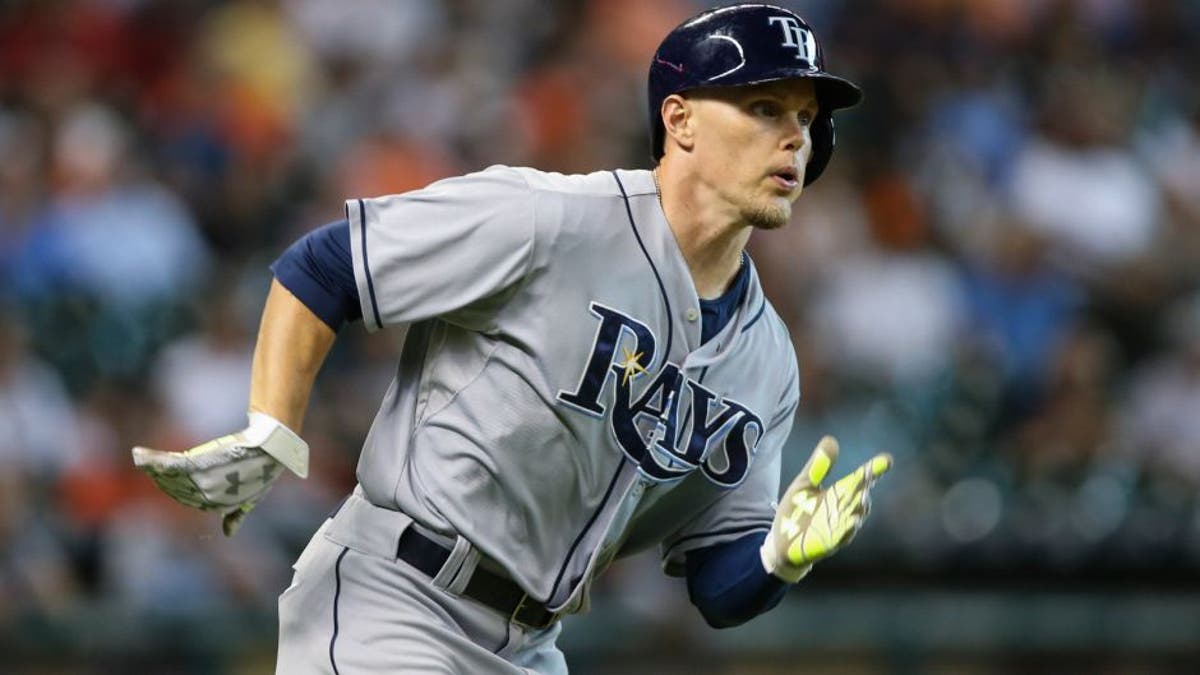 TAMPA, Fla. -- On Sunday, Aug. 30 at 4:30 p.m., FOX's Sun Sports, the statewide television home of the Tampa Bay Rays, will premiere an all-new episode of "Inside the Rays" upon conclusion of the Tampa Bay vs. Kansas City Royals game. Titled "Brandon Guyer," this episode tells the story of the Rays outfielder fulfilling his boyhood dream in storybook fashion.
On May 6, 2011, Guyer became just the second player in Rays history to homer in his very first plate appearance. To do so in Baltimore at Camden Yards, less than 50 miles from where he grew up, and in front of family and friends made it just that more special."Inside The Rays: Brandon Guyer" brings viewers up close and personal with Brandon and his wife Lindsay. They welcomed the Sun Sports crew into their home as the couple discussed their initial meeting while Brandon was playing college ball at the University of Virginia. That the meeting was during an interview Lindsay was conducting as a sports anchor for a nearby television station makes their story even more unique.
Their love story and the long distance relationship that ensued due to their professions is highlighted, and the chance given to Brandon following his trade from the Chicago Cubs to Tampa Bay in January of 2011. He made an instant impact with the club during that season, and made the Rays opening day roster for good in 2014. Part of a young, developing outfield that brings energy and excitement to the game night after night, Brandon's fearlessness and athleticism makes him both a fan favorite and a beloved teammate.
Fellow outfielder Kevin Kiermaier, Third Base Coach and Brandon's manager in Durham Charlie Montoyo, and First Base Coach and former Rays outfielder Rocco Baldelli describe their appreciation for Brandon's value on the field and in the clubhouse, as well as his infectious personality and Brandon's love for his family.
Join host Emily Austen as we debut a brand new "Inside the Rays: Brandon Guyer," and be sure to follow @SunSportsRays on Twitter and Instagram and visit FOXSportsFlorida.com for channel listings and exclusive Rays video coverage.
Re-Air Schedule:
Sun. 8/30/2015, 11:30 p.m.
Mon. 8/31/2015, 10:30 p.m.
Tue. 9/1/2015, 10:30 p.m.
Fri. 9/4/2015, 7:00 a.m.
Fri. 9/4/2015, 10:30 p.m.
Tue. 9/8/2015, 9:30 a.m.
Wed. 9/9/2015, 10:30 p.m.
Sat. 9/12/2015, 10:00 p.m.
Tue. 9/15/2015, 6:00 p.m.
Thu. 9/17/2015, 11:30 a.m.
Tue. 9/22/2015, 6:00 p.m.
Thu. 9/24/2015, 11:30 a.m.
Tue. 9/29/2015, 8:30 a.m.
Tue. 9/29/2015, 5:30 p.m.

About FOX Sports Florida / FOX's Sun Sports
FOX Sports Florida & FOX's Sun Sports are the regional television homes of the Orlando Magic, Tampa Bay Rays, Miami Heat, Miami Marlins, Tampa Bay Lightning and the Florida Panthers. The regional sports networks are available in more than 6.5 million cable & satellite homes across the state. FOX Sports Florida and Sun Sports are committed to making a positive impact in the communities we serve by engaging our audiences and providing award winning TV and web coverage of Florida's hometown sports teams. For more information, channel listings and how you can get involved with FOX Sports Florida / Sun Sports, visit www.foxsportsflorida.com