Inside the matchup as Predators face Ducks in West finals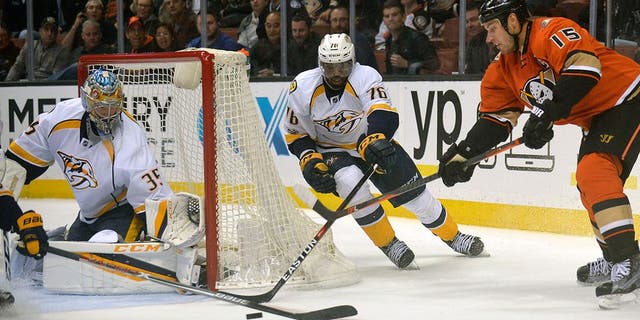 For the third time in seven seasons, it's a cross-country matchup for the Nashville Predators and Anaheim Ducks.
This time it won't be just to get out of the first round, but for a chance to win the Western Conference and to take on either the Pittsburgh Penguins or Ottawa Senators in the Stanley Cup Finals.
Forwards
Ah, the crme de la crme of what's left in the Western Conference.
Anaheim's top three goal-scorers -- Ryan Getzlaf, Jakob Silfverberg and Rickard Rakell -- sit second, third and fifth overall in the NHL for goals scored in the playoffs. All three also are among the top 11 point scorers as well.
There's no question that the Ducks have plenty of weapons on their roster -- Nick Ritchie, Nate Thompson and Patrick Eaves (when he's healthy) to go along with the aforementioned trio.
Then that leads us to the curious case of both Corey Perry and Ryan Kesler. Both have extraordinary talent, however haven't been able to translate that into success so far this postseason. Perry has two goals and seven assists in 11 games while Kesler has a single goal and six assists in the same span.
Looking at the Predators roster, one could make the argument that the top point-producer for Nashville -- Ryan Johansen, who has the same numbers as Perry in one fewer games played -- doesn't hold the same water as what the Ducks offer. While that's a reasonable assessment, Anaheim is used to seeing much more than what they've seen offensively from their core players.
Yes, Getzlaf has easily been holding his own, but Perry and Kesler have not.
Offensively, both teams match up quite well against each other. Both have size and speed, along with veteran experience. It may boil down to who can be the hero on any given night.
Edge: PUSH
Defensemen
Anaheim's defense is fast, mobile, strong and can score -- which sounds like something that we're already very familiar with in Nashville. The Ducks may not have the same level of talent that the Predators can boast, but they're a force to be reckoned with and will be for years to come.
Cam Fowler, Shea Theodore, Brandon Montour, Hampus Lindholm and Sami Vatanen are all 25 years or younger. That's absolutely amazing for the talent level of the Ducks defensive core and for how successful they're going to be.
Granted, while Yannick Weber and Matt Irwin are the oldest of the bunch for the Predators, Nashville's age range is close to Anaheim with four of its defenders being 27 or younger.
It's not just about age, though. It's more of how successful both blue lines can be against the opponents they've already seen. The Ducks put on a clinic in shutting down the Oilers in Game 7 onWednesday night, however where has that defense been the entire postseason?
The Predators may have stumbled in Games 1 and 2 against St. Louis, allowing six goals and splitting the games, but they've been instrumental in providing Pekka Rinne with the vision he's needed to have one of the best goaltending performances in the Stanley Cup Playoffs through recent history.
Anaheim's defense can't say the same in regards to John Gibson.
When they're on their game, they can be unstoppable, but only when they're on their game. If the same defense shows up that Edmonton notched a touchdown on, then it will be a short series.
Edge: Nashville Predators
Goaltending
John Gibson must be better for Anaheim if they want to reach the Stanley Cup Finals. I can't put it much clearer than that.
While Pekka Rinne has been lights out on the opposite end of the ice, allowing 14 goals in 10 games on 288 total shots, Gibson has been less than stellar for the Ducks. His .908 save percentage and 2.80 goals against average are the worst of any goaltender to play outside of the first round.
Nashville's magic number the entire season has been three goals. Score three goals and you can nearly bank on a Predators win. Gibson's been nearly averaging that many goals allowed per game this postseason.
Here's a stat that I've been keeping track of: 33-1-3. That's Rinne's record when the Predators record three goals or more while he's in net.
That includes three of the four wins against Chicago and three of the four wins against St. Louis. Gibson allowed three or more in five of the seven games against Edmonton.
If he can't improve from those numbers, and do so quickly, the Ducks could turn to Jonathan Bernier, who's had plenty of success against the Predators in the past.
Edge: Nashville Predators
Special Teams
With the weapons that Anaheim has at its disposal, you'd think that the Ducks would be better on the power play than they have been this postseason.
But you'd be wrong. Way wrong.
Starting out with a modest 23 percent after a four-game sweep of the Calgary Flames, Anaheim's power play took a steep nosedive against the middle-of-the-pack Oilers penalty kill. The Ducks would register a power play goal in Games 1and 2of their seven-game series against Edmonton, but would go 0-for-16 in the final five games.
Bringing their total power play numbers through 11 games to 5-for-36. A measly 13.8 percent. No other team remaining in the Stanley Cup Playoffs has a worse percentage, although Ottawa's 14.6 percent (6-for-41) is barely ahead of Anaheim.
The Ducks penalty kill? Not much better. Anaheim has surrendered at least one power play goal in eight of its11 games in the postseason. The 13 goals allowed while down a man is six higher than the next closest team, all coming off 42 total times shorthanded.
Of the eight teams to pass through the first round, Nashville has taken the fewest penalties at 24, 11 behind Pittsburgh. In that same span, it has allowed only three power play goals -- a staggering 87.5 percent on the penalty kill.
The Predators have also seen the fewest power plays of the final eight teams with their opposition being penalized 25 teams. Nashville, however, has a 20 percent conversion rate (5-of-25).
My advice to Anaheim: stay out of the box and do something different on the power play than what you've been doing the previous 11 games.
Edge: Nashville Predators
Coaching
This is such an interesting combination of coaches because it features the two head coaches who won the 2005-2006 Stanley Cup and the 2006-2007 Stanley Cup. It also features two coaches who have a wealth of playoff experience and absolutely know exactly which buttons to press and when.
For Randy Carlyle, this is his second stint in Anaheim, hoisting the Cup in 2007 after bowing out in five games to the Edmonton Oilers in the Western Conference finals the year prior. Carlyle took a four-year stint with the Toronto Maple Leafs, but came back to the cool breezes of the west coast this season -- bringing the Ducks to another Pacific Division championship, their fifth-straight overall.
Facing off against the Predators for the second time in his coaching career, Carlyle can put another demon to bed for Anaheim -- getting past Nashville?
Back in 2011, Carlyle faced a much different Predators lineup that pushed past the Ducks in six games for their first-ever playoff series victory. This year is a similar tale, albeit more important than a single series victory -- a chance to play for the Stanley Cup.
Can Carlyle navigate through the storm that neither Chicago or St. Louis could do?
Edge: PUSH
X-Factor (Nashville)
As Rinne has been my X-factor for both the first and second rounds, I think's time to expand out. Rinne and the defense have continued to play fantastic hockey through 10 games, but Nashville's offense needs to find a bit more firepower.
Colin Wilson, who's earned the moniker "Playoff Colin Wilson" for his previous abilities to tear opposing teams apart during the postseason, has been quiet since returning from injury. Of all the major Predators offensive contributors -- not counting Craig Smith, who's been limited to four games due to injury -- Wilson has one goal and one assist in his six games thus far.
There must be more in the take for Wilson. He may not be at 100 percent -- and really, who is during the playoffs -- but "Playoff Colin Wilson" has looked more like "Regular Season Colin Wilson" so far.
That needs to change. Wilson needs to be better this series.
X-Factor (Anaheim)
Offensively, the Ducks can't simply rely on the overwhelming efforts of Getzlaf to be the end-all, be-all for them. They need more.
While Perry is the easy pick here, Kesler really needs to be doing more for Anaheim than his one goal in 11 games. When Kesler is on his game, he's one of the most difficult players to stop in the NHL.
He gave Nashville fits back in 2010 while with Vancouver and he's continued to do so in his time with Anaheim. He could be the one piece that, if he starts to click, could help propel the Ducks to a Stanley Cup Final berth.
Prediction
Before the regular season ended, I wanted no part of seeing the Predators face-off against the Chicago Blackhawks.
Nashville swept them in four games.
As the second round came to a head, I hoped that the Wild would find a way back into the series and give Nashville a better upcoming match-up instead of the size battle against the Blues.
The Predators won in six games.
As Anaheim and Edmonton finished up on Wednesday, I felt that a Western Conference final against the Oilers would've played well into the hands of the Preds -- one that, in my opinion, would have mirrored their series against Chicago.
And again, the opposite of what I thought would be in the best interest of Nashville has happened.
If we're comparing the two -- Nashville has the better goaltending, defensive play and special teams. Defense leads to offense and, as those in the football community will tell you, wins championships.
So far, it's worked well for the Predators. They stuck to the script for 10 games and have an 8-2 record.
Don't expect that to change just because they are flying across the country for their next opponent.
Predators in five.