"Inside the HEAT: 2016-17 Season Recap" premieres May 8 on FOX Sports Sun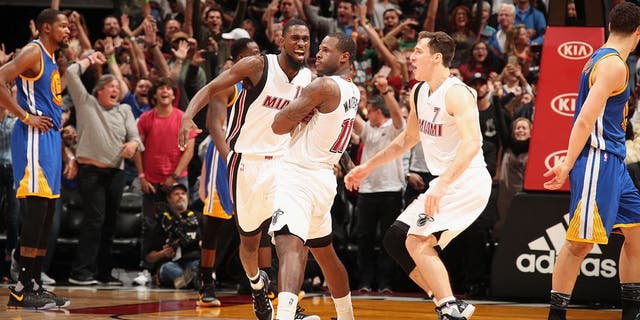 MIAMI -- Tune in Monday, May 8 at 5:30 p.m. on FOX Sports Sun, the regional television home of the Miami HEAT, as we get set to premiere an all-new episode of Inside the HEAT. Inside the HEAT: 2016-17 Season Recap takes a fond look back at a season that left HEAT fans longing for more from a team who found their identity and made their presence felt across the NBA.
Learn all about a team full of new faces that started the season at 11-30, but never gave up or lost hope. In the toughest moments, the team came together and went on an incredible 13-game win streak, the most ever for a team under .500 Witness the spectacular games that brought the team together and the moments where each and every player shined. See how their desires for each other to be successful helped the team thrive on and off the court. Explore the bond they created with each other and how the city of Miami rallied behind them as they fought back to finish the season 41-41. As quoted by Hassan Whiteside, The season started out we were strangers, strangers became friends and friends became family. Despite narrowly missing the playoffs, see how the culture of the organization was apparent and how special this season was to so many across the franchise.
Relive these memorable moments through interviews with players, coaches and media including: local Heat beat writers Tim Reynolds (AP), Ira Winderman (Sun-Sentinel), Manny Navarro (Miami Herald), Anthony Chiang (Palm Beach Post) and Ethan Skolnick (790 the Ticket/CBSSports.com), as well as HEAT radio broadcasters Tommy Tighe and Jonathan Zaslow.
Tune in on FOX Sports Sun and FOX Sports GO as we debut Inside the HEAT: 2016-17 Season Recap, and be sure to follow @FOXSportsHEAT on Twitter and visit FOXSportsFlorida.com for channel listings and exclusive HEAT video coverage.
Replay Schedule:
| | | |
| --- | --- | --- |
| Thu | 5/11/2017 | 5:30 PM |
| Sat | 5/13/2017 | 5:30 PM |
| Mon | 5/15/2017 | 4:00 PM |
| Tue | 5/16/2017 | 11:30 PM |
| Wed | 5/17/2017 | 6:00 PM |
| Thu | 5/18/2017 | 5:00 PM |
| Sat | 5/20/2017 | 1:30 PM |
| Sun | 5/21/2017 | 6:30 PM |
| Sat | 5/27/2017 | 7:30 PM |
| Mon | 5/29/2017 | 5:30 PM |
FOX Sports Florida & FOX Sports Sun are the regional television homes of the Orlando Magic, Tampa Bay Rays, Miami Heat, Miami Marlins, Tampa Bay Lightning and the Florida Panthers. The regional sports networks have been fixtures in the homes of sports fans throughout the Sunshine State for over 20 years. Today, the networks combine to produce more than 700 live sporting events and over 300 studio based and original programs year round. FOX Sports Florida and FOX Sports Sun are committed to making a positive impact in the communities we serve by engaging our audiences and providing award winning TV and web coverage of Floridas hometown sports teams. For more information, channel listings and how you can get involved with FOX Sports Florida / FOX Sports Sun, visit www.foxsportsflorida.com.