Insane: Mike Krzyzewski has never won the AP Coach of the Year Award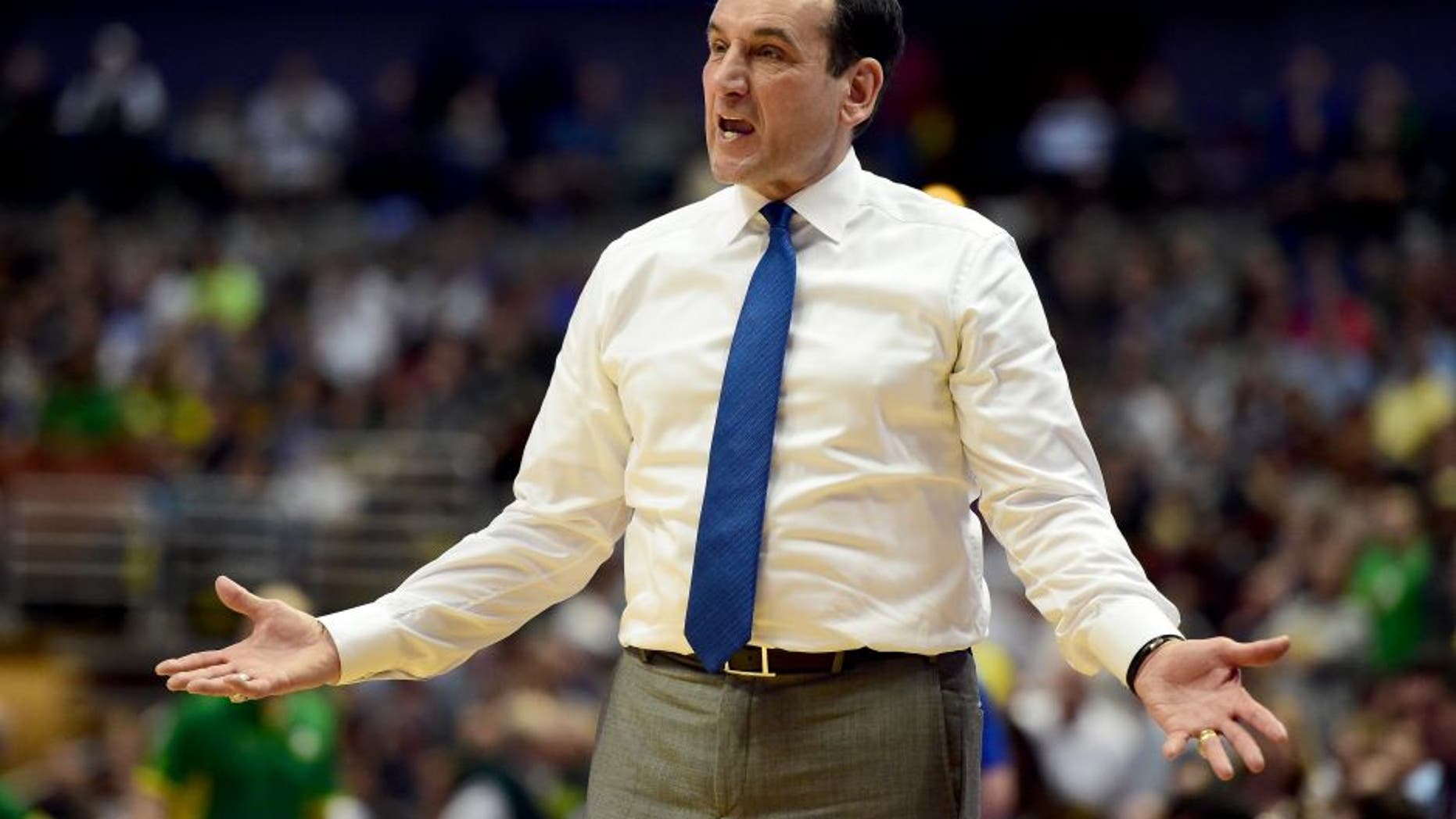 This season, in his third year on the job, Texas Tech coach Tubby Smith turned around a team that had toiled at the bottom of the Big 12 for years and got into the NCAA tournament thanks to a six-game turnaround punctuated by a 9-9 conference record. Tubby's team was wholly unspectacular, the definition of mediocrity in fact, but because the team was coming off lean years, started 2-6 in the conference but finished strong, including a court-storming home win over Oklahoma during that 7-3 finish, Smith was awarded the conference's Coach of the Year Award.
Meanwhile, about 650 miles northeast of Lubbock, Bill Self led a Kansas team that also struggled early in conference play (though to the tune of a 5-3 start) and probably had the sixth- or seventh-best roster in his 13 years in Lawerence, to the top overall seed in the NCAA tournament en route to winning its record 12th straight Big 12 title.
On March 6, Tubby Smith was named Big 12 Coach of the Year.
In a sports world rife with awful award-giving, Coach of the Year selections are the most egregious. The best coach is rarely rewarded; instead, voters choose to reward those whose teams experience big turnarounds. The usual formula: Team has bad year, team fires coach, team hires coach, coaches team to better year, gets COY award.
There's no shame in doing that occasionally - changing a losing culture is one of the hardest jobs in sports. But to ignore Self's consistency because Tubby Smith went 9-9 in conference? That'd be like saying Kirk Cousins should be the NFL MVP because he turned a horrible football team into a 9-7 division winner while all Cam Newton did was repeat as NFC South champs. It'd never happen.
We should state the irony here: Self, who was passed over in his own 10-team conference, was awarded the national COY award on Thursday, a rare deserved gesture by AP voters.
How rare? Here's a list of some college coaches who've won the award in the past 35 years: Ralph Miller, Bill Frieder, Randy Ayers, Kelvin Sampson, Clem Haskins, Cliff Ellis, Larry Eustachy, Matt Doherty (I repeat, Matt Doherty), Bruce Weber, Keno Davis, Mike Brey and Frank Haith (I repeat, Frank Haith). One coach not on that list: Mike Krzyzewski.
No, that's not a consonant-filled typo. The Duke coach who is, depending on your opinion, either the best or second-best college basketball coach in history (any other opinion is wrong) has never won a NCOY. He's won plenty of ACC awards, where the voters are better familiarized with teams and the pool is obviously cut down dramatically.
But the national stat is indefensible. It invalidates every other award, including the good ones. Not awarding Coach K for college basketball coaching is like giving out award for space travel and ignoring Neil Armstrong and Buzz Aldrin. Yet it explains so much about these honors: The higher the bar set by a coach, the harder it is to clear. Coach K has probably deserved the award five or six times, but because we expect Duke to be a top-three seed every year, it's easy to take for granted when it is. It's expected. It's routine. It's the norm. But just because there are plenty of years when Coach K has seven All-Americans on his roster doesn't mean there aren't lean years where he has to build from scratch or cobble together pieces to make a contending team, like Self did this year in Kansas with a roster that probably has no legitimate NBA talent.
Not that reining in a group of All-Stars is easy either. John Calipari in 2012 is a prime example. Sure, you could say, anyone can win with the talent Kentucky had that year. But that's a far more difficult job than you think. When there are six alpha dogs, how do you grow a cohesive team? It's far more difficult task than Haith had in coming into Missouri and taking somebody else's talent to a lightning-in-a-bottle No. 2 seed.
It's the same in all sports. The college football award (which is relatively new for the AP) seems to be the best, rewarding once-in-a-lifetime seasons, like Jim Grobe's ACC-winning Wake Forest team in 2006, while also acknowledging the top-tier coaches taking talent to the summit (Nick Saban in 2008, Dabo Swinney in 2015).
Vince Lombardi won one COY. So did Bill Walsh. Joe Gibbs has two. Bill Belichick has three, the same as the ringless Chuck Knox, he of his 7-11 playoff record.
But even Belichick had to basically force the voters' hands in two of those years, winning 12 straight to end 2003 with a 14-2 mark and then going 16-0 in 2007. (How can you not vote that? It's like how John Calipari only won his first college award last year when Kentucky finished the regular season undefeated.) But one of Belichick's greatest coaching jobs went ignored. Back in 2008 when Tom Brady went down in Week 1 and the Pats went 11-5 with Matt Cassel as his backup, Mike Smith won the award after going 11-5 in his first season in Atlanta. The Falcons had a 4-12 mark in 2007 so Smith's turnaround was nice, but it also helped that Bobby Petrino was no longer coach and Matt Ryan replaced Joey Harrington at starting quarterback. I could have gotten the team to 7-9 with that change.
Smith had a fine year, but he walked into a good situation and did a good job of taking advantage of it. Meanwhile, Belichick took a guy who'd never started a college game at quarterback and squeezed 11 wins out of him. But why didn't Belichick win? Because it's impossible to exceed skyhigh expectations.
The NBA might be the worst offender because, for all the problems with the NFL award, at least Belichick has been rewarded a decent amount of times. The NBA has done that to one coach - Gregg Popovich who, like Belichick, has essentially made it impossible for voters not to cast one his way.
But Phil Jackson has one, the same amount as Del Harris and three fewer than Don Nelson. From 2006 to 2010 the winners were Avery Johnson, Sam Mitchell, Byron Scott, Mike Brown and Scott Brooks. Only two are currently coaching in the NBA and their teams have the worst (Scott with the Lakers) and third-to-worst (Mitchell in Minnesota) records in the West. Jerry Sloan never won one in Utah, while Chuck Daly went award-less too.
That's not to say the best coaches should win every year. I mean, LeBron has "only" four MVP awards. A few of the ones he didn't could have gone to him, but voters get fatigue and it's a natural that some coaches are going to have breakout years that deserve to be awarded.
Is that the issue with Coach of the Year? Do voters choose to not take the name of the award literally and instead vote for the man whose teams defied the most expectations (with the occasional break for a Hall of Famer having a Hall of Fame season)? In that case, it should be called the Most Improved Coach award which, for most purposes, it is. Or, even better, just get rid of it all. When there are playoff berths to be had and rings to be won, there's a pretty good barometer already out there for the success of a coaching season.
One person who agrees: Tubby Smith. The Red Raiders coach has this to say last month about the possibility of winning the award:
"It's amazing what Bill Self has done and I think he deserves to be coach of the year. There's been banter about me, but I think he's done a fantastic job."
Enough said.