Injuries have No. 10 Baylor offense 'semi-productive' while talented freshmen get early plays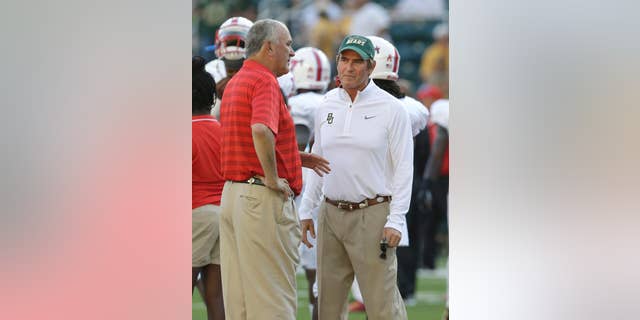 Baylor quarterback Bryce Petty was in pain every time he threw a pass while playing only the first half of the season opener. Top receiver Antwan Goodley was bothered early by a thigh issue and failed to catch a pass for the first time in 18 games.
No wonder coach Art Briles described his offense as "hit and miss."
While the 10th-ranked Bears (1-0) were out of sync based on their own impressive standards, they still managed to pile up 574 yards and 45 points. They also got a glimpse of the potential of some talented freshmen.
"It's a good thing that we're able to be semi-productive at this time," Briles said. "We're getting a lot of valuable experience early in the season, which will hopefully benefit us later one, where these guys have played, they've made plays and they're ready to play when we get some of these other guys back."
The Bears will likely be without Goodley again for Saturday night's home game against FCS team Northwestern State (0-1). Goodley didn't play after the first quarter Sunday night, and fellow senior receiver Clay Fuller is still recovering from a broken collarbone.
Davion Hall, Goodley's primary backup, had seven catches for 86 yards in Sunday's 45-0 victory over SMU.
"It was a little unexpected because I wasn't planning to play as much as I did because of Antwan being in front of me," Hall said. "I had to be ready, which I was, and I felt like I did pretty good backing him up."
KD Cannon, another highly touted freshman receiver, caught a 46-yard TD pass.
"They did exactly what they've been doing in practice, and that's being real consistent and making plays," Briles said of the young receivers. "The less drama, the less surprises, the better. That's what we got out of them, that's what we've been getting out of practice."
Returning running back Shock Linwood ran 16 times for 80 yards, while redshirt freshman Johnny Jefferson had 12 carries for 57 yards.
Petty cracked two small bones in his back after getting hit on the first series of the opener. He still played until halftime, throwing for 161 yards with two touchdowns and also running for a score that gave the Bears a 31-0 lead. The reigning Big 12 offensive player of the year is questionable for Saturday, though Petty has said this week that he doesn't want to miss a game.
"Why I'm so adamant about this game, it's all about rhythm, it's all about that timing you get that you can't substitute," Petty said.
Baylor led the nation with 619 total yards a game last season, after being second in that category each of the previous two seasons. The Bears' 52.4 points per game were an NCAA record.
Petty's backup is sophomore Seth Russell, who completed 13 of 23 passes in the second half against SMU — the exactly line for Petty before that. Russell played in seven games last season, when the Bears often built overwhelming leads over their opponents on way to their first Big 12 title.
"That's the great thing about Seth. He's got a lot of experience for a backup QB," Briles said. "That's something that really helps, like I said, the receiving corps, these guys are getting a lot of reps."
And working to get in sync.