'Infuriated' New York Knicks fan sells allegiance for thousands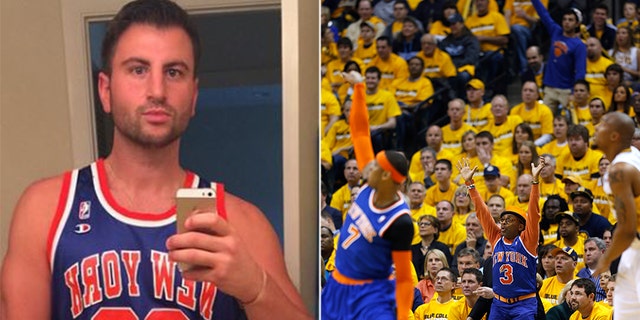 A New York Knicks fan completely over the team's five-straight losing seasons sold his fandom on eBay for thousands of dollars on Monday and will now move his allegiance to the Los Angeles Lakers.
Evan Perlmutter, 33, put his fandom up for grabs on the auction earlier this month, according to Yahoo Sports. James Riedel, a 23-year-old video game YouTuber from California, was the one who won the bid for Perlmutter's fandom. He paid $3,500 for it.
"I am a lifelong LeBron James fan, and a Lakers fan of a month and half," Riedel told Bleacher Report. "I originally thought about turning Evan into a Nets fan for the torment, but I feel like he should be able to root for the King before he retires."
There are a few parameters surrounding the deal. Perlmutter, who goes by "Infuriated Knicks Fan" on Twitter, promised to bet $500 on the team's over/under, get a Lakers license plate casing for his vehicle and buy NBA League Pass, ESPN reported. He must also attend two Lakers game this season and buy two jerseys.
Perlmutter will also burn three pieces of Knicks memorabilia and it will be recorded and posted to Riedel's YouTube channel – which contains a robust 348,000 subscribers.
The New York Knicks also released a statement on the matter.
"We're sure our millions of loyal Knicks fans won't mind losing this attention-grabbing gentleman," the team said. "We remain focused on the upcoming season—with a hard-working team that is proud to represent New York and its dedicated fans."