IndyCar's Derrick Walker still looking for answers after tough week with endless questions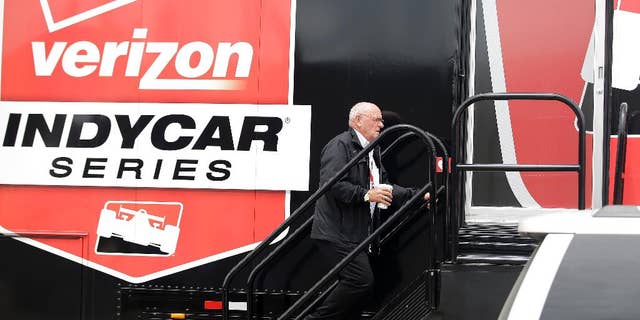 INDIANAPOLIS – As Derrick Walker strolled through the Indianapolis Motor Speedway garages one day this week, he was stopped by an old friend.
Roger Penske, like everybody else, wanted an update on IndyCar's investigation into the safety of the cars. The topic isn't going away anytime soon for Walker, who has been enduring the toughest week of his two-year tenure overseeing competition in the series.
"I'd be lying if I didn't say it's been a pretty intense week," said a weary-looking Walker.
From the moment three-time Indianapolis 500 winner Helio Castroneves' car hit the wall in the first turn and went airborne last Wednesday, Walker's world has been turned upside down. Josef Newgarden had his own scary crash, then Ed Carpenter wrecked on Sunday before qualifying began for the Indianapolis 500.
Suddenly, Walker had a major headache to deal with just days before the series' showcase race.
Some argue the three frightening airborne crashes in Indianapolis 500 practice could have been prevented with more testing on the new oval aero kits. Others contend the push to challenge Indy's speed records next May, on the 100th running of the famous race, was little more than a risky gimmick. Those in Gasoline Alley largely believe this is all part of racing, a dangerous sport that tests limits and sometimes has spectacular, scary scenes.
Walker can take some solace in the fact the drivers in the Chevrolet cars, which have gotten most of the attention, all walked away without any serious injuries. James Hinchcliffe, who needed surgery to repair a massive wound to his left leg from a broken wishbone on his Honda car, also has been improving.
But concerns from the public have not subsided, and an investigation into the cause of these problems continues.
Walker raised the ire of some teams with last weekend's decision to delay qualifying while he met with team owners about reducing the horsepower level for safety reasons. He also instructed teams to use the slower race-day setups, moves that were not initially met with universal approval.
"It was a tough situation because a lot of times in racing when decisions are made, it benefits some and doesn't benefit others," said Larry Foyt, president of A.J. Foyt Enterprises. "I wasn't happy because our cars were working really good (in qualifying setup)."
Following the changes, Foyt's cars qualified 21st, 25th and 29th.
Other Honda-powered drivers, such as Graham Rahal, expressed disgust, too, saying Honda should not be penalized for a problem that appeared to only affect the Chevys, which have dominated the series this season.
Rahal also correctly predicted that his speed would be about 3 mph slower than the four-lap, pole-winning average posted by Chevy's Scott Dixon (226.760 mph). Rahal is starting 17th after going 224.290 mph.
On Thursday, Marco Andretti echoed Rahal's sentiments and noted his car was better in the faster setups, though he qualified eight at 225.189. Chevy drivers had similar complaints.
Walker heard all of those arguments during a series of impromptu meetings in Gasoline Alley, but used his calm demeanor, an emphasis of safety and the credibility he has built up through the years to get most team owners on board.
"Obviously, that was not a popular decision," Penske said. "I think he's good at this because he's been under the gun as a competitor and he understands both sides of the fence. This week and this month have been tough because we usually don't see cars experiencing what we've seen."
While engine manufacturers have collected 35,000 to 40,000 miles of data from this month at Indy, by Walker's estimates, a common denominator has not yet been found in why the cars seemed prone to fly into the air. The first thought was that the underside of the side pods on the Chevy cars, which essentially have two holes, was responsible. Chassis-maker Dallara also is involved in the investigation.
"I'm not an aerodynamicist, but something's going on there," Foyt said.
Everyone from Penske to the casual racing fan sees it, and that's what makes Walker's job so difficult.
"I think Derrick has maybe the toughest job in IndyCar racing and maybe all of motorsports," series CEO Mark Miles said. "Our objective is to continue the development of speed. People are going to push the envelope and try to go faster, safely, and that's why we had to slow it down."
Walker, of course, would prefer to speed up the investigations and get answers. But he won't do that.
"It's not simple to find out what happens when a car runs backward at 180 to 200 mph and see whether it lifts or not," Walker said. "There are a lot of parts to this before we can understand the why."