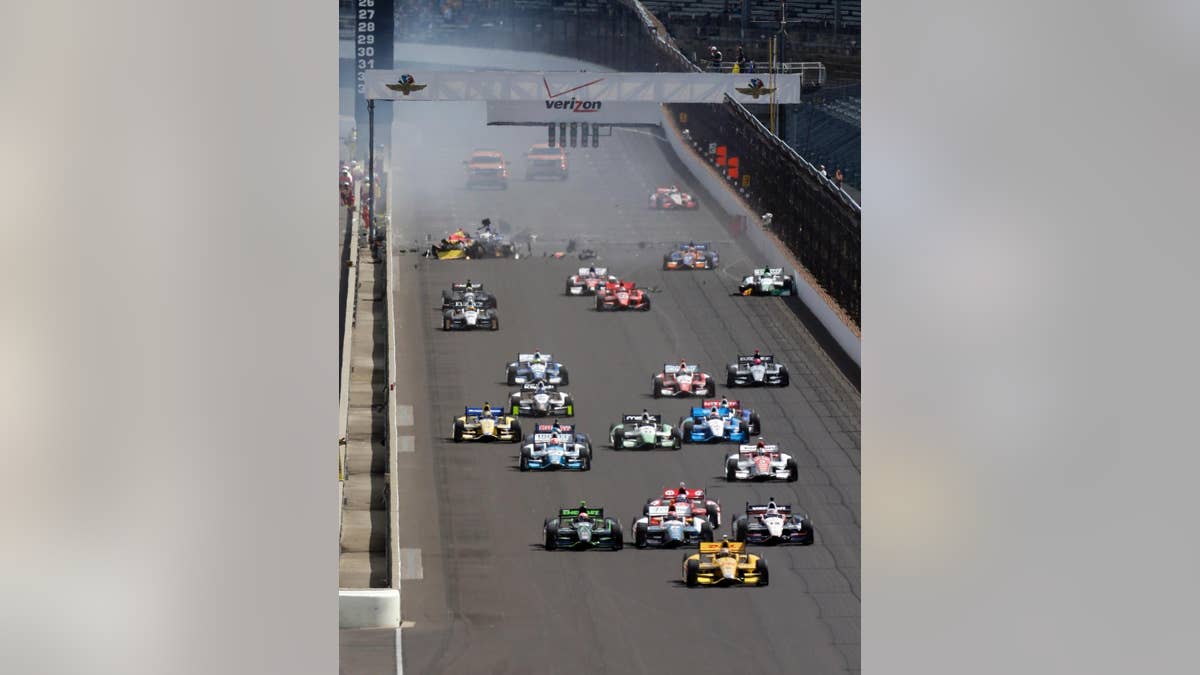 INDIANAPOLIS – IndyCar is standing pat with standing starts.
President of competition Derrick Walker said there are no plans to ditch the much-maligned starts that have been problematic for the series since last season. However, he knows the series has troubles with the starts that need to be addressed before the next one in June.
"The system we have on our cars is not as good as it needs to be," Walker said Thursday at Indianapolis Motor Speedway. "It's tricky to set up. The manufacturers set that up, the way the system behaves. It's enough to say it's not foolproof. It needs a lot more work than we've given it."
The inaugural Grand Prix of Indianapolis got off to an inauspicious start Saturday when pole-sitter Sebastian Saavedra stalled, triggering a violent wreck.
IndyCar used a standing start for the series' first race on the road course at Indianapolis Motor Speedway. But Saavedra's car simply didn't go when the lights went out and, after Ryan Hunter-Reay frantically darted around him, Saavedra was clipped by Carlos Munoz and then hit hard from behind by Mikhail Aleshin.
IndyCar has now had some type of failure in all six attempts since bringing them into the series last season.
"Even if the standing start doesn't work, there's a function called anti-stall," Walker said. "The engine should always be running. I don't think the manufactures have gotten that one correct yet. They're trying to go fast and we're trying to make sure the engine is running when something goes wrong. The car isn't perfect."
Knowing the system is flawed, Walker said IndyCar should have been more proactive and put in a session where they had time to practice.
"If all the drivers say, 'We can't do it like that, we have to change,' then I guess we'll go back to the drawing board and do it again," he said. "But there are a lot of drivers that come up and say don't change standing starts. Don't change restarts. They want us to modify it a little bit, so we're looking into it, getting input on improving it. I don't think it's all thrown out the window. I don't think you toss it out just because we've had a couple of tough ones."
Walker also said the cars were spaced too close together, and Munoz and Aleshin should have used dedicated spotters.
"We gave them permission to put a spotter on the roof, right on top of the Pagoda," Walker said. "Usually only Christ gets to stand up there. There's only so much we can do."
IndyCar will use the standing starts again June 28 in Houston and July 19 in Toronto.
Drivers also grumbled about the way race control was restarting the races, with the leader having to use a late restart zone. Graham Rahal said he was victimized when he was run into from behind by Juan Pablo Montoya.
"These restarts are pretty stupid. You can't see back there because the rear wings are so big, and the officials, we need to work with them to try to change this because there's going to be a lot of accidents," Rahal said.
"They need to let the leader go earlier. Right now, the way it is, they're trying to be like NASACAR and this isn't NASCAR. We can't just bump-draft each other."
Walker dismissed the idea that IndyCar was emulating NASCAR.
"The problem really wasn't that only the field came down at pace car speed, it was the car behind him that jumped the start," Walker said. "Perhaps the answer is not necessarily let the leader go sooner, but bring the field down a little bit quicker."
Also a problem, the debris from Justin Wilson's car that flew into the cockpit, striking James Hinchcliffe in the head. He was taken away from the track on a stretcher, transported to a hospital and diagnosed with a concussion. He was cleared Thursday to return.
"It's a problem to fix," Walker said. "The only way you could that would be to have a partial cockpit. Long term, we are going to fix that problem. Short term, we haven't figured out a way to do it."
Walker did credit a carbon-fiber strip on the top of the helmet that prevented Hinchcliffe for getting hurt worse.
"Open wheel is just a very vulnerable area," he said.