Indians weren't sad to see Nick Swisher go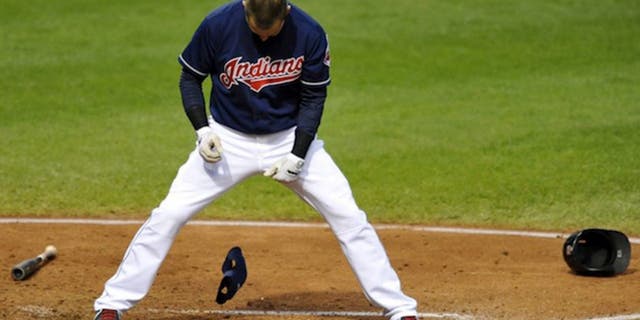 The Nick Swisher era has ended in Cleveland.
Last week the Indians traded the overzealous first baseman/outfielder to the Braves, in a move that will bring them relief in more ways than one.
The trade, which also sent outfielder Michael Bourn and some cash to Atlanta, frees the Indians of their biggest salary albatross, a wasted roster spot and a seemingly unwanted cheerleader in Swisher.
According to a story by Zack Meisel of Cleveland.com, there wasn't much love lost in the Indians clubhouse when Mr. Brohio was sent packing:
"Not all teammates shed a tear when Swisher packed up his belongings and jetted to Georgia. His relentless enthusiasm wore on members of the clubhouse and the fan base, as they longed for numbers in his stat line worthy of those on his paychecks.
"The energy and over-the-top bubbly attitude helped eliminate any lasting effects from a defeated team that amassed a 68-94 mark in 2012. When his performance went south, however, his insistence on being the club's commander and cheerleader didn't carry much weight."
The story also notes that Swisher often wanted to be around the team during his DL stint, even when it wasn't required. He requested to accompany the Indians on road trips and hung out around the clubhouse while he rehabbed back from knee surgery.
But oddly enough, when asked what happened to the 2015 squad that had such high expectations going into the season, Swisher went mute.
"Once he was traded, he was stumped. He knew nothing. He was never here. That's their problem.
It was a bizarre, yet perhaps telling, lack of an answer for a guy who almost always had one."
Regardless of how it ended, it's safe to say that there is a huge feeling of relief for both the Indians organization and their fanbase knowing that the Nick Swisher era in Cleveland is finally over.
(h/t Cleveland.com)