Indianapolis Colts preview (No. 5): Can veterans lead Luck to the Super Bowl?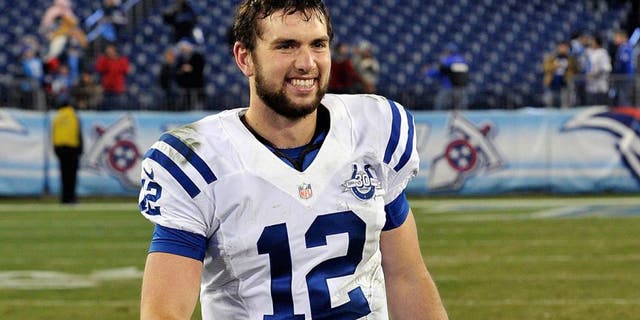 Our 2015 NFL preview series ranks every team, from worst to first. Today: the No. 5 Colts.
2014 Record: 11-5 (lost in AFC Championship Game to Patriots)
Head coach: Chuck Pagano (fourth year, 33-15 regular season, 3-3 playoffs)
Key arrivals: Andre Johnson (wide receiver), Trent Cole (outside linebacker), Nate Irving (inside linebacker), Vincent Brown (wide receiver), Kendall Langford (defensive tackle), Frank Gore (running back), Dwight Lowery (free safety), Todd Herremans (guard)
Key departures: Sergio Brown (strong safety), Josh Gordy (cornerback), Hakeem Nicks (wide receiver), Cory Redding (defensive end), Trent Richardson (running back), AQ Shipley (center), Josh Cribbs (returner), Ricky Jean Francois (defensive tackle), Shaun Phillips (linebacker), LaRon Landry (safety)
2015 Schedule (ET):
Sept. 13: at Buffalo, 1:00 pm
Sept. 21: New York Jets, 8:30 pm
Sept. 27: at Tennessee 1:00 pm
Oct. 4: Jacksonville 1:00 pm
Oct. 8: at Houston 8:25 pm
Oct. 18: New England 8:30 pm
Oct. 25: New Orleans 1:00 pm
Nov. 2: at Carolina 1:00 pm
Nov. 8: Denver 4:25 pm
Nov. 15: BYE
Nov. 22: at Atlanta 1:00 pm
Nov. 29: Tampa Bay 1:00 pm
Dec. 6: at Pittsburgh 8:30 pm
Dec. 13: at Jacksonville 1:00 pm
Dec. 20: Houston 1:00 pm
Dec. 27: at Miami 1:00 pm
Jan. 3: Tennessee 1:00 pm
TRAINING CAMP QUESTION: How will the Colts improve in stopping the run?
The first-string line should be better this year with the offseason signing of Kendall Langford from St. Louis to start at end opposite a now-healthy Arthur Jones (ankle). The Colts, though, could use some backups to step up as part of a rotation designed to keep the starters fresh. Ideally, 2015 third-round pick Henry Anderson from Stanford is ready for immediate action to complement fellow end Montori Hughes and nose tackle Zach Kerr coming off the sideline. Outside linebacker Trent Cole also has the ability to play on the line in passing situations.
IF EVERYTHING GOES RIGHT:
New arrivals Cole, Langford and Irving will finally shore up a shaky defense and turn it into a top-10 unit. Speaking of new arrivals, Andre Johnson and Frank Gore will give Andrew Luck two dependable veterans to lean on and the team will finally have the mettle to get past the New England Patriots in the AFC and reach the Super Bowl.
IF EVERYTHING GOES WRONG:
Premier pass-rusher Robert Mathis has a hard time returning from his Achilles injury, Gore and Johnson have nothing left in the tank and Luck will once again be forced to try and carry the entire offense by himself. If that happens, expect more rushed throws and interceptions that could be the difference between playing a playoff game at home in the dome or on the road in frigid conditions. And the Colts won't get over the hump in 2015.
BREAKOUT PLAYER: Outside linebacker Jonathan Newsome
Newsome was one of the Colts' most pleasant surprises in 2014, leading the team in sacks with 6.5 as a fifth-round pick. Newsome's numbers should continue to grow with fellow outside linebacker and 2013 NFL sack leader Robert Mathis set to draw attention from blockers when he returns from an Achilles tendon injury.
CIRCLE THIS DATE ON THE CALENDAR GAME: vs. New England in Week 6 (8:30 pm ET/October 18)
What was already an intense rivalry will be even more heated since it was the Colts who told the NFL that the Patriots were using underinflated footballs. This also would be the first game back for New England quarterback Tom Brady if his appeal of a four-game NFL suspension gets rejected.
ALEX MARVEZ'S PREDICTION: 11-5, first place
None of the other three teams that reached last year's conference championship games (Seattle, New England and Green Bay) made anywhere near the type of free-agent splash as the Colts. But rather than address a defense that was shredded once again by the Patriots last January, Indianapolis instead took a radically different and highly questionable path by adding more offensive weapons – and older ones at that. The signings of two 30-something players in Gore and Johnson have boom-or-bust written all over them. Gore will be going for his ninth career 1,000-yard rushing season as the Colts punted Trent Richardson in the offseason.
Johnson, the most storied player in the Houston Texans' brief history, will be assuming the same type of safety-blanket receiving role that Reggie Wayne once held before the Colts parted ways during the offseason. From a skill-position standpoint, no AFC quarterback is surrounded by more overall talent than Andrew Luck. The Colts, though, must find answers on defense -- especially against the run -- or the efforts of Luck and his offensive firepower will go to waste. The uncertain status of head coach Chuck Pagano beyond this season could become a distraction if the Colts stumble along the way.