In order for USC to be great again, Sark needs to go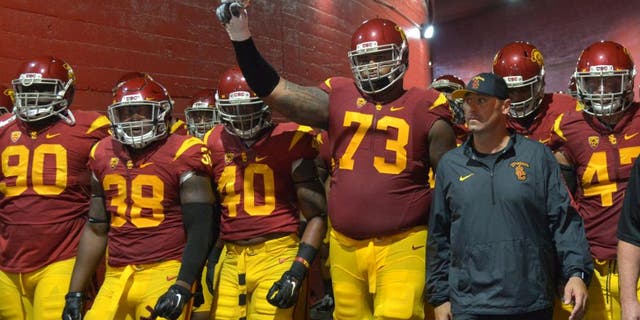 If you're reading this column Friday morning, then USC coach Steve Sarkisian made it through the night with his job intact. Given his athletic director's track record, that's no sure thing.
One thing's for certain, though: Sark After Dark is going to get canceled at some point.
Five games into Sarkisian's second season, USC is exactly where it was at the end of chronically maligned predecessor Lane Kiffin's tenure -- losing games it has no business losing; wasting another seemingly star-studded lineup. Washington's improbable 17-12 upset at the Coliseum on Thursday night marked the Trojans' second Pac-12 home loss already this season and the fifth defeat in Sarkisian's 12 conference games.
This one, however, was the most damning by far for many reasons, most notably that it came at the hands of Sarkisian's old team. The sense among many Washington fans nearly two years ago was that the Huskies managed to upgrade coaches when the school lured Chris Petersen from Boise State upon Sarkisian's departure to USC.
They were right.
Despite starting a true freshman quarterback, Jake Browning, who he barely trusts to attempt a pass, Petersen's team went on the road and beat a top-20 opponent for the first signature win of his tenure. And the Huskies did it on the strength of a young defense that, despite losing four of the top 44 picks in last spring's NFL Draft, completely dominated a veteran USC offensive line and in turn shut down Trojans star QB Cody Kessler (16 of 29, 156 yards, 0 TDs, 2 INTs).
Just to top it off, Sarkisian doomed his team's chances of a last-minute comeback with one of the most puzzling strategic decisions of this young season. Down five points with 3:44 left and only one timeout remaining, he opted to attempt a 46-yard field goal rather than go for it on fourth-and-9 at the Washington 28. Alex Wood missed, Washington subsequently gained one first down and the preseason Pac-12 favorite likely eliminated itself already with a 1-2 start.
"We didn't coach well enough and play well enough to win the game," Sark told reporters afterward. "This one at end of the day is on me."
Normally we wouldn't be talking about a second-year coach's job security, but Sarkisian invited extra-heavy skepticism with his drunken speech at a preseason banquet and subsequent admission he would be seeking unspecified treatment. USC really needed to get off to a hot start. Instead it's done the exact opposite.
That's not to say that AD Pat Haden will now abruptly pull the plug like he did with Kiffin on the tarmac of an airport after an embarrassing loss in the fifth game of the 2013 season. But there's very little chance this story ends with Sark leading the Trojans to the Rose Bowl, either.
Ironically USC's now seven-season descent from the Pete Carroll heyday began at the hands of Sarkisian.
The then first-year U-Dub coach, taking over a program that went winless a year earlier, stunned Carroll's Trojans the third week of the 2009 season. USC finished 9-4, after which Carroll left for the NFL's Seahawks. The program has been chasing his shadow ever since, first with one Carroll protégé, then another. Kiffin got hired off of one seven-win season as head coach at Tennessee, Sark off a trio of seven-win seasons (and one 8-4 regular season) at Washington.
Save for one triumphant 10-win campaign under Kiffin in 2011, neither has proven capable of leading the Trojans anywhere near the level they reached as offensive coordinators.
LA is a bandwagon town. Fans there only want to see a winner. Instead, the last two times they've visited the Coliseum they've watched the home team give up 41 points to Stanford and score 12 against Washington. That's not going to cut it.
For USC to finally put this ugly chapter behind it, the program will need to make a clean break once and for all from the Carroll era and go out and hire the type of high-caliber, established coach that would jump at the chance to lead such a storied program. Whether that decision comes later this year or gets put off 'til next -- and whether Haden himself will be around long enough to make it -- remains to be seen.
But it must, and it will, happen at some point soon.
Stewart Mandel is a senior college sports columnist for FOXSports.com. He covered college football and basketball for 15 years at Sports Illustrated. You can follow him on Twitter @slmandel and Facebook. Send emails and Mailbag questions to Stewart.Mandel@fox.com.