In case you missed it: Week 1 records & milestones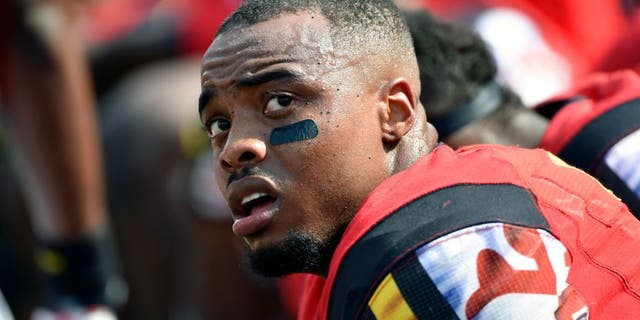 New Texas A&M defensive coordinator John Chavis has been touting Myles Garrett and Daeshon Hall as one of the best pairs of defensive ends in the nation, and who's to argue after what the two did against Arizona State?
Their numbers jumped off the statistics sheet: a combined six sacks, 6 1/2 tackles for losses, three forced fumbles and 15 tackles. It was part of a defensive effort that held the 15th-ranked Sun Devils to 291 yards in a 38-17 victory in Houston on Saturday night.
The 6-foot-5, 262-pound Garrett earned acclaim last year when he set school and SEC freshman records with his team-leading 11 1/2 sacks. The 6-6, 260-pound Hall started five games last season and had 4 1/2 sacks -- a figure he'll surpass soon after took down the quarterback a career-high four times Saturday.
The defensive line finished with seven sacks, nickelback Donovan Wilson added another two, and the Aggies had their biggest night for sacks since they recorded 10 against Texas Tech in 1995.
Some other notable statistical achievements over the weekend:
LIKELY TIRED? Maryland's William Likely broke Big Ten and school records for punt return yards with 233 against Richmond. Likely ran back eight punts and eclipsed the 76-year-old conference record of 201 yards by Iowa Heisman Trophy winner Nile Kinnick. The 5-foot-7, 175-pound junior ran one back 67 yards for a touchdown and also had returns of 47 and 35 yards. He also had a 42-yard kick return.
GETTING HIS KICKS: Garrett Owens had another big opener for Oregon State, making 4 of 4 field goals in a win over Weber State. In last year's opener, his first career game, he made 5 of 7 field goals against Portland State.
LAYING DOWN THE LAWRY: Ray Lawry picked up where he left off last season in Old Dominion's opener. The sophomore turned in the nation's best rushing performance of the week with career highs of 28 carries and 223 yards in a 38-34 road win over Eastern Michigan. Lawry finished last season with 213 yards on 25 carries against Florida Atlantic and was Conference USA freshman of the year.
TULSA TACKLER: Tulsa safety Michael Mudoh made a nation-leading 20 tackles against Florida Atlantic and is well on his way to a third straight 100-tackle season. The senior has started 25 consecutive games and is among only five returning FBS players to have put together triple-digit tackles in back-to-back years.
EXTRA POINTS: Joshua Tate of Division II Clark Atlanta University blocked two field goals and an extra point against Tuskegee. ... Damontae Kazee had three of San Diego State's five interceptions against San Diego. Kazee, who had two picks in his first 25 games, probably shouldn't get too excited about Saturday. It came against a no-scholarship FCS program. ... Texas, in losing 38-3 at Notre Dame, failed to score a touchdown for the second time in seven games. ... California's 73 points against FCS Grambling State were second-most in program history. ... Not to be outdone by Texas A&M, Temple recorded a nation-best 10 sacks in its win over Penn State.