In a pass-happy conference, K-State's DBs have yet to pick one off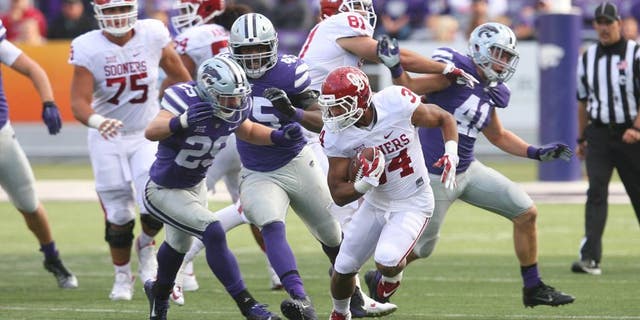 Kansas State's defensive backs have not recorded an interception this season. Scott Sewell USA TODAY Sports
This is an amazing statistic: No Kansas State defensive back has recorded an interception since last October. No, not last month. Last year.
As Kellis Robinett of the Kansas City Star reported, K-State has played 15 football games and defended nearly 600 passes since last October, when cornerback Morgan Burns intercepted a Trevor Knight pass in the end zone. Maybe that's one reason Knight lost his job as the Sooners' QB. Oklahoma came to Manhattan earlier this season and rolled 55-0 behind quarterback Baker Mayfield.
K-State can only wonder what might be had a member of the secondary been able to come up with a timely pick. The Wildcats, riding a five-game losing streak, lost at Oklahoma State on a last-second field goal and fell to both TCU and Baylor by seven points each.
Now the Wildcats are focused on slowing down an explosive Texas Tech offense that will put the ball in the air a lot.
K-State has just three total interceptions on the season, all by linebackers. Elijah Lee has two and Will Davis has one.
"I probably would have told you it was a joke," Lee told Robinett. "Our defensive backs are usually the ones that get all of the interceptions."
Injuries haven't helped. Dante Barnett, a preseason all-conference selection with seven career interceptions, has been sidelined since getting hurt in the opener. Danzel McDaniel, who had a pick-six last season, is out for the year.
If a Wildcats DB is going to get one, this might be the game. Tech quarterback Patrick Mahomes has thrown 13 interceptions, most in the Big 12.
"It would be huge if we could get some," said Sean Newlan, who has been forced into becoming a full-time starter due to the injuries. "We have been pretty unfortunate. We haven't had a lot of production out of our secondary in terms of interceptions and turnovers. But sometimes all it takes is one. If we are able to get that first one, who knows, maybe we can get a few more after that."
MORE NEWS: Want stories delivered to you? Sign up for our College Football newsletters.