Iginla leads NHL's 'Three Stars of the Week'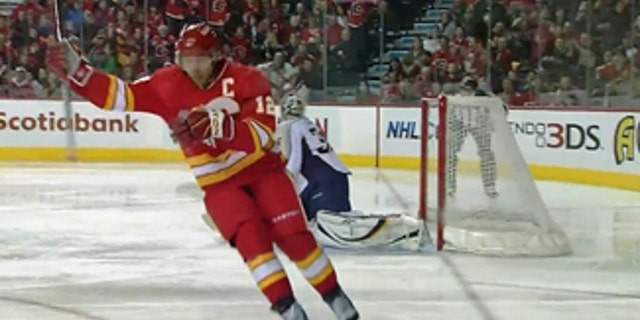 NEW YORK -- Calgary Flames right wing Jarome Iginla, Buffalo Sabres defenseman Andrej Sekera and Montreal Canadiens goaltender Carey Price have been named the NHL's 'Three Stars' for the week ending Mar. 6.
FIRST STAR -- JAROME IGINLA, RW, CALGARY FLAMES
Iginla topped NHL scorers last week with eight points (five goals, three assists) as the Flames (35-24-9) posted three victories in four starts and climbed to fifth place in the Western Conference. Iginla scored in each game, beginning with two goals and an assist in a 6-0 victory over the St. Louis Blues Mar. 1. He recorded one goal and two assists in a 6-4 loss to the Chicago Blackhawks Mar. 2 and notched one goal in a 4-3 victory over the Columbus Blue Jackets Mar. 4. Iginla concluded the week with a milestone goal in a 3-2 win over the Nashville Predators Mar. 6. His second-period goal, coming on a penalty shot, made him just the 10th player in NHL history to score 30 goals in 10 or more consecutive seasons. The Flames captain leads his club in scoring with 66 points (30 goals, 36 assists) in 68 games and is 14 points shy of the NHL Milestone of 1,000 (471-515--986).
SECOND STAR -- ANDREJ SEKERA, D, BUFFALO SABRES
Sekera provided plenty of offense from the blueline with eight points (one goal, seven assists), helping the Sabres (32-25-8) earn seven of eight possible points and claim the eighth playoff spot in the Eastern Conference. Sekera tallied multiple points in each game, starting with a pair of assists in a 3-2 victory over the New York Rangers Mar. 1. He recorded two assists in a 3-2 overtime loss to the Carolina Hurricanes Mar. 3, tallied one goal and one assist in a 5-3 win over the Philadelphia Flyers Mar. 5 and collected two more assists in a 3-2 overtime victory over the Minnesota Wild Mar. 6. Sekera extended his streak of multiple-point games to five, becoming the second defenseman in Sabres history to do so and the first since John Van Boxmeer in 1981.
THIRD STAR -- CAREY PRICE, G, MONTREAL CANADIENS
Price posted a 3-0-0 record, 1.00 goals-against average, .974 save percentage and one shutout as the Canadiens (36-23-7) rose to sixth place in the Eastern Conference. Price stopped 113 of 116 shots last week, beginning with a 40-save performance in a 3-1 victory over the Atlanta Thrashers Mar.1. He recorded 30 saves in a 4-0 win over the Florida Panthers Mar. 3, his seventh shutout of the season, and stopped 43 shots as the Canadiens defeated the Tampa Bay Lightning 4-2 on Mar. 5. Price improved his season record to 31-21-6 with a 2.34 goals-against average and .923 save percentage in 58 appearances.