If star RBs stopped, Nebraska's Armstrong, Wisconsin's Stave, McEvoy can step into spotlight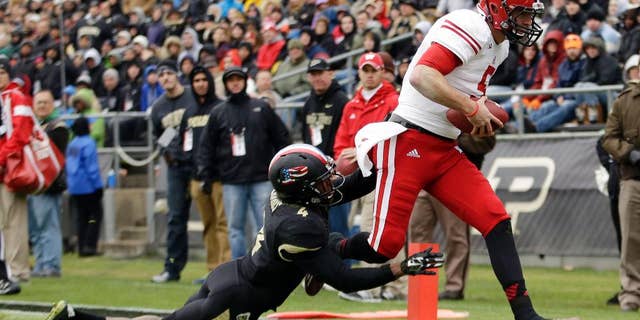 LINCOLN, Neb. – The Big Ten West matchup between No. 11 Nebraska and No. 22 Wisconsin is considered a showcase for star running backs Ameer Abdullah and Melvin Gordon.
Don't forget about the quarterbacks.
If Nebraska's Abdullah is shut down, or ineffective because of his left knee sprain, Tommy Armstrong Jr. will fill in as playmaker against the toughest defense he's faced this season. If Wisconsin's Gordon is kept under wraps, the same goes for Joel Stave and Tanner McEvoy.
Nebraska (8-1, No. 16 CFP) and Wisconsin (7-2, No. 20 CFP) are 4-1 in the Big Ten along with Minnesota. The winner in Madison will have sole possession of first place in the West Division, barring a Minnesota upset of Ohio State.
Armstrong is coming off a dismal performance in a 21-point home win over Purdue two weeks ago. He struggled a half dozen times with center-quarterback exchanges, completed only 8 of 21 passes and was intercepted twice.
The Badgers, who beat Purdue by 18 points on the road last week, are 4-0 and averaging 40 points and 475 yards with Stave and McEvoy rotating. Still, the highest-ranked defense the Badgers have beaten this season is Purdue, which is 82nd nationally.
Nebraska's defense is No. 25 and trending upward the last three games. However, Wisconsin's defense is statistically the best in the land.
The last time Armstrong went against a high-quality defense, at Michigan State last month, he committed three turnovers and was sacked five times. He's looking for redemption.
"The quarterbacks always have the ball in their hands every snap, and it's what they do with it that determines the game," Armstrong said. "When I take care of the football, our offense is unstoppable."
Armstrong was sharp in a 41-31 win over a Miami team that brought a top-10 defense to Lincoln in September. Of course, it didn't hurt that Abdullah ran for 229 yards that night.
Overall, Armstrong's numbers have been nothing special. He's completing 53 percent of his passes with 13 touchdowns against eight interceptions. It's not his passing that concerns the Badgers.
"Designed runs, he's really, really good," linebacker Marcus Trotter said. "What Nebraska does really well is get defenses out of place and out of position. When they're out of position, Abdullah and Armstrong have a very good knack to the ball in terms of just running through the chute and not even being touched."
The Huskers' open date last week was fortuitous, giving Armstrong extra time to put his outing against Purdue behind him. Nebraska coach Bo Pelini said he's confident Armstrong's mind is right for Wisconsin.
"When you're really a competitor and you're coming out of the game, sometimes you forget about all the good things you did and think only about the plays you want back," Pelini said. "It's hard to get those out of your head. I think that's the case with Tommy. It doesn't affect him going forward. He doesn't sulk or anything like that."
Stave threw for a season-high 219 yards and two touchdowns against Purdue last week. McEvoy is the better runner and leads the Bowl Subdivision with his per-carry average of 9.4 yards.
Badgers coach Gary Andersen, whose background is as a defensive coach, said he's comfortable with offensive coordinator Andy Ludwig's decisions on rotating the quarterbacks.
"It's even a little bit more of a vicious weapon if I just look at it from a defensive coordinator standpoint," Andersen said. "Would I rather defend a guy for a whole series or defend a guy maybe for a snap or two snaps and have another guy coming in?
"They both have justification, but I personally think it's best when you have the ability to use them at any moment and you have to adjust your defensive schemes to it. So you'll see more of that as we continue to move forward."